Billy Ray Cyrus on fatherhood and being outnumbered by girls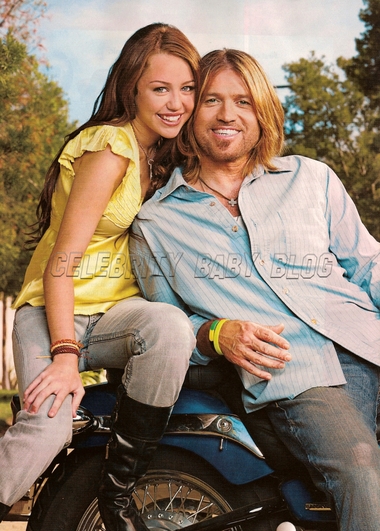 Billy Ray Cyrus, 46, recently opened up to OK! about working with hisdaughter Miley, 14, on her hit show Hannah Montana and being dad to hislarge family that includes his and wife Leticia "Tish" Finley's otherchildren, son Braison, 13, and daughter Noah, 7; Billy's sonChristopher Cody, 15, from a previous relationship; and Tish's twochildren, Brandi, 20, and Trace, 18, from a previous relationship.
Click below for the highlights.


On being a good dad: "My definition of being a father is being a bestfriend; that's what my dad was to me and that's what I've tried to befor my kids. I'm really good at teaching them to ride motorcycles, sitby a campfire and roast marshmallows. I'm really good at opencommunication, whether they've got problems or just want to celebratethings they're proud of. I'm a really good listener. I'm a little bitdifferent than the 'normal dad.' I try to use a little more psychology."
On working with Miley: "What Miley and I do on HannahMontana is almost exactly what we do with me being her daddy in reallife. I think one of the hooks of the show is the realism between Mileyand myself. We love it."

On his other children entering show business: "My little girl Noah hasdone several episodes of Hannah Montana. If she wants to be an actress,I think she's got the chops to do it. She's reptty much a littlenatural."
On music running in the family: "We all love music. It's been in my family for years.Fortunately I inherited that ability to sit down and play music and sohave the kids."
On giving Miley advice: "My advice to Miley is to have fun, enjoy the ride,be happy and don't let the business crap overshadow the fact of why youdo what you do. If you ain't having fun, it's not working. My dadalways said, 'If you do what you love for a living, then you neverhave to work a day in your life.'"
On being there for Miley: "I'll be there through thick and through thin; Iwant to be her best friend. I want to be the person she comes to forhelp when she makes that mistake. And trust me, it's very possible thatI'm going to make a mistake and have to go tell her about it. You needfriends and people who love you."
On feeling outnumbered by girls: "No, no. Well, heck, I'm lying. Yeah, all the time!"
Source: OK! Magazine, October 15 issue, pg 32-33