MilkScreen tries to help moms who drink and breastfeed
by Fashion/Gear contributor Bronwyn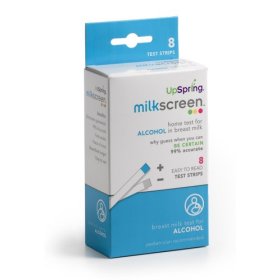 Breastfeeding moms who enjoy an occasional drink are oftenworried about passing the alcohol in their milk. MilkScreen aims to take the worry away. The product ismanufactured by UpSpring, a companystarted by actor Dennis Quaid's wife and three other mothers to tell momswhen their milk has too much alcohol. Celebs like Marcia Cross, Naomi Watts,Tori Spelling, Keri Russell, Jill Fink and Patrick Dempsey have all turnedto UpSpring products to ensure their children's safety.
MilkScreen is 99% accurate and very easy to use. You simply saturate thereactive pad with breastmilk, wait two minutes and then read the results. Ifthe pad changes color it indicates a high level of alcohol, if there is nochange, the breastmilk is safe.
There are a couple of things to consider in general when drinking andbreastfeeding. The American Academy of Pediatrics Committee on Drugs andChemicals and Human Milk has deemed alcohol consumption (in smallquantities) as compatible with breastfeeding. Alcohol leaves the body asit's metabolized so the alcohol will only remain in the milk as long as it'sin the body, therefore the occasional alcoholic beverage would not be aproblem. An occasional drink is classified as one glass of wine, one beer orone mixed drink one or two times a week. Consuming one or more alcoholicbeverages everyday is not recommended as it can cause slow weight gain andinhibit milk let down.
It's been said for some time that mothers who partake in an alcoholicbeverage should pump and dump. This isn't necessary, as dumping the milkdoesn't remove the alcohol that's in your system. The alcohol in yourbreastmilk is directly related to the alcohol in your blood stream not tothe amount of fluids in your body.
Most pediatricians agree that a nursing mom should wait at least 2 hoursafter drinking an alcoholic beverage, citing that alcohol in the bloodstreamusually peaks 30-90 minutes after it was consumed. When in doubt, a productlike MilkScreen can come in handy, but following the general guidelinesshould work just fine.
For more information about breastfeeding and alcohol consumption, consultKellyMom.com orBabyCenter.com.
Danielle adds: I learned of this product last year at the ABC Kids Expo. I think it's ridiculous. It feeds on a new mom's fear. The only time you probably shouldn't nurse is when you are drunk and then using MilkScreen is the last thing you're thinking about. And obviously drunkenness is not compatible with good parenting, in general. I can tell you anecdotally that I have on occasion drank a few glasses of wine over the course of an evening and gotten a little tipsy (but not drunk) and noticed no difference in Anya- no sleepiness or drunkiness.
What do you think of this product? Are you afraid to drink because you're worried the alcohol will enter your breastmilk?