Sara Gilbert and Sawyer at Farmer's Market
Actress Sara Gilbert, 32, and her daughter Sawyer, 8 weeks, go shopping at the Studio City Farmer's Market. Sara will be guesting on The Big Bang Theory with former Roseanne co-star Johnny Galecki.
Photos by Pacific Coast News.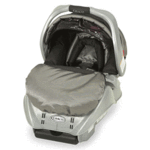 Sawyer rides in a Graco Snugride in Metropolitan print ($120), snapped into a Bugaboo frame.