Janet Evans on exercising while pregnant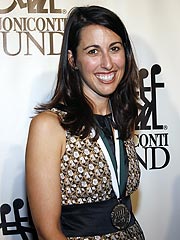 When Olympian swimmer Janet Evans, 36, was pregnant with her daughter, Sydney, 10 months, she did what came naturally — she kept swimming.
I swam throughout my pregnancy and basically 10 days after she wasborn. Swimming throughout the pregnancyreally kept me fit and made it easier. And my OB said it was the bestthing that I could do.
Even throughout her pregnancy, Janet couldn't quite get rid of her competitive streak which worried her husband, Billy Wilson.
He got mad at me because I was racing little kids in the pool. You're not supposed to get your heart rate up after you have ababy. I'd be racing little 10-year-olds and saying, 'They can't beatme. I'm an Olympian.' He'd say, 'Please, take care of our daughter.'
And when Janet arrived at the 22nd Annual Great Sports Legend Dinner last week, all of her hard work during her pregnancy and afterwards showed.
I'd be disappointing all of the Olympians if I didn't look good after having a little one.
Source: People
Thanks to CBB reader Mary Beth.