Sponsor: Uncommonly Cute's Newest Additions!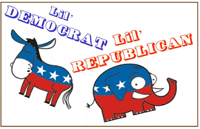 Uncommonly Cute's baby clothes have always been a favorite with celebrity baby readers and we are excited to share with you their newest additions for your uncommon cuties. Celebrities are buzzing about their Republican and Democrat tees. Have your cuties show off their Political views in style too!
Visit Uncommonly Cute's website for these and other adorable tees.
Exclusively for Celebrity Baby Blog Readers: Use code CB1007 for 15% off your order. Also check out their sale tees.