Update: Giveaway: Tony Bennett Sings The Ultimate American Songbook Volume 1
Update: The winners are:
Gianna, who said, "I am not a closet fan, I say it loud – I love Tony Bennett. I'm 25yrs oldand he is one of the best singers ever IMO. I love so many of hissongs, but my favorite is They can't take that away from me."
Rachel, who said, "Because of you has always been one of my favorite Tony Bennett songs,however I can't think of one that I don't like, so I guess I am acloset Tony Bennett fan!"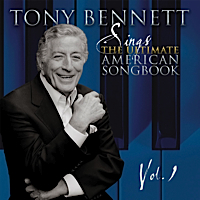 If you asked me if I was a Tony Bennett fan, I probably wouldn't say yes, but deep inside I think I may be. I've been listening to a few tracks off of his new Legacy Records presentsTony Bennett Sings The Ultimate American Songbook, Vol. 1
(which drops tomorrow) and I'm humming along and wanting more, especially when it comes to American standards like It Had To Be You (listen: .asx or .mov) and They Can't Take That Away From Me (listen: .asx or .mov).
Are you a closeted Tony Bennett fan? Two lucky Celebrity Baby Blog readers will get to win their own copy! (The rest of you may want to consider buying it.)
To enter, tell us what your favorite American standard is (if you can't think of any, click Continue Reading to see which songs are included on the album) or Tony Bennett song, and why. (Giveaway closes Thursday, September 27 at 8 am.)
Tony Bennett Sings The Ultimate American Songbook, Vol. 1
is a dream project forTony Bennett, who personally chose the 15-song program from his Columbiarepertoire. Literally hundreds of singers have recorded versions of thesesongs over the years, but Tony Bennett is in the rare class of artists whoactually took part in many of the original presentations. The songs on thisdefinitive collection of popular standards cover three distinct decades ofrecording by Tony Bennett on Columbia:
The 1950s: 1958's "Ev'ry Time We Say Good­bye" originally fromthe 1944 Cole Porter Broadway musical, Seven Lively Arts; and 1959's "TakingA Chance On Love" from the 1940 Vernon Duke Broadway musical, Cabin In TheSky.
The 1960s: 1962's Live At Carnegie Hall version of the 1934Cole Porter gem, "Anything Goes"; 1962's "You'll Never Get Away From Me"from Stephen Sond­heim's 1959 Broadway musical, Gypsy; then a pair fromTony's 1964 album When Lights Are Low – Fats Waller's "Ain't Misbehavin'"which dates to 1929, and the Gus Kahn/Isham Jones chestnut, "It Had To BeYou" from the 1932 RKO film, Show Business; the 1966 recording of RayNoble's "The Very Thought Of You" from 1934; 1967's "They Can't Take ThatAway From Me" which dates back to the 1937 Fred Astaire & Ginger Rogers RKOfilm, Shall We Dance; and an undated '60s session with the Dave BrubeckQuartet on Harold Arlen & Johnny Mercer's "That Old Black Magic," from the1942 Paramount film, Star Spangled Rhythm.
The 1990s: Three tracks from 1992's Sinatra tribute PerfectlyFrank, which brought Tony his first Grammy Award in 30 years, starting withthe Gershwins' "A Foggy Day" from the 1937 RKO film, A Damsel In Distress,and 1938's "I'll Be Seeing You" and "You Go To My Head," all three of whichare associated with the Columbia recordings of Billie Holiday, the primalvocal influence on Sinatra and Bennett; 1997's "She's Funny That Way" fromthe tribute album to Billie, Tony Bennett On Holiday; and from that sameyear, Tony's contribution to the My Best Friend's Wedding movie soundtrackalbum, Jerome Kern's "The Way You Look Tonight," yet another song associatedwith Billie; and from 1994's RIAA platinum two-time Grammy Award-winning MTVUnplugged comes the duet with k.d. lang on "Moonglow," the sixth song inthis series associated with Billie Holiday.