Ben Stiller on ballet recitals, discipline, and birthday parties for children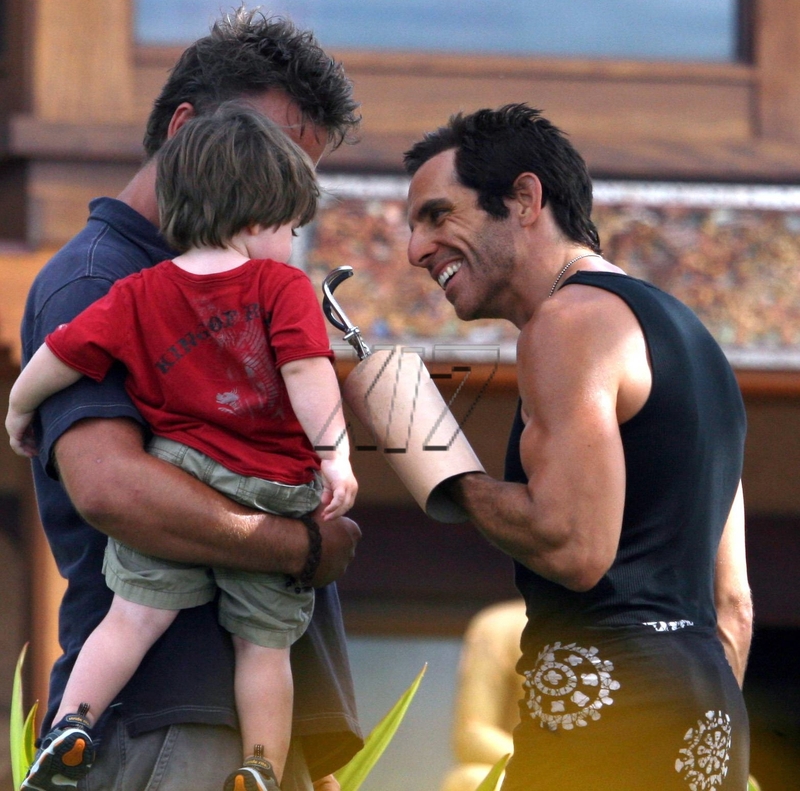 Actor Ben Stiller, 41, talked ballet recitals, his way of disciplining, and kids' birthday parties with Jay Leno while appearing on the Tonight Show in promotion of his new film, The Heartbreak Kid. Ben and his actress wife Christine Taylor, 36, are parents to Ella Olivia, 5, and Quinlin Dempsey, 2.
On birthday parties and his kids:
I don't remember birthday parties when we were kids being such a huge issue. But there's all sorts of entertainment — there's all these characters…My daughter loves princesses so we hired a Cinderella for the party. But it was an out-of-work actress — well, working for that afternoon. Not quite princess age, more like…queen age. [laughs]

But you know, the kids love it. You just sort of have to distract them when you're tipping out Cinderella and she drives off in her Jetta, smoking a butt.

[Quinlin] loves the bouncy castle. He's a real guy's guy, loves to run around. He likes cigars…and fast cars and women. You want to break them in early.
On Ella's ballet recital:
Ella goes to ballet class. They had this recital — and she's 5 years old, so I think that's a young age for a kid to be performing in any way. I thought it was going to be a little recital at the little dance studio. But what they did was they combined all the classes that the school had and had one big recital at an 800-seat auditorium. So it was like a three hour thing, and they were scalpin' tickets outside, and it's high pressure.

So they made this announcement before the show — 'No photographing will be allowed during the performance.' That is insane. Everyone is here with their video cameras to film their kids and it's like Dick Cheney organized the recital or something.

And I'm nervous, I'm there with my wife, and we're like, 'Screw this. We're going to video our child when she comes out.' So she comes out, about an hour into the show, and secretly I'm rooting for the other kids to tank, 'cause I don't know how she's going to do, I want her to shine.

And she came out and — this is not a biased parent, I'm not kidding — she was incredible. Lit up, responded to the pressure. She's got her two little dancemates and they're doing a little tap number. Like, I'm not exaggerating when I say the American Ballet Theater looked like a bunch of hobos.

And I whip out the video camera, and all of a sudden these security goons step out into the aisle, and they've got infrared things to shine in the camera, which can like blind you — I'm thinking lawsuit here. They're blocking the line of sight. So my parental instincts — the part of your brain where you're like an animal — that kicks in. So I'm like a mad, angry, animal mother. I'm going to get to my child! But I got the video.
On discipline:
I'm not a good disciplinarian. I just don't know where to go with it. I'll say, 'Don't do that. If you do that, I'll…Just don't do that!' I don't have like, punishments, or anything.


Or I'll just go to a bad place with it too. Like [Ella] will get in a fight with [Quin] and I'll take away the toy, and she'll say, 'That's not fair,' and I'll just go right into, 'Life is not fair. Bad things happen to good people. Welcome to the world!'
Source: The Tonight Show