Update: Giveaway: Mickey Mouse Clubhouse: Mickey's Treat – Out on DVD 8/28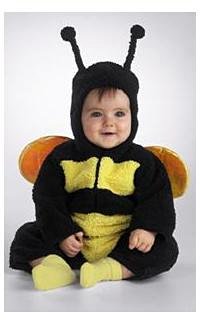 Update: The winners of the DVDs are Katie, whose sons, 1 and 3, will be plain and peanut M&Ms and dog will be a Tootsie Roll, and Robyn, whose 4 year old daughter will be a "kimono princess" and 2 year old will be a bumblebee.
---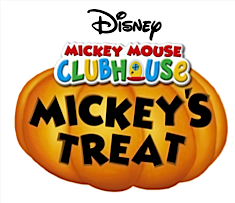 Put on your costume, grab your goody bag and join Mickey and his pals for spooktacular Halloween fun and watch the new Mickey Mouse Clubhouse – Mickey's Treat
, out on DVD from Walt Disney Home Entertainment on August 28th.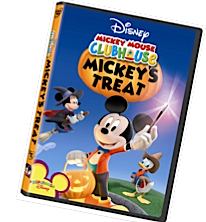 Mouskeready, mouskeset… here we go! Everyone's invited toBig Pete's Halloween party. But the gang needs to reach Trick-Or-TreatTower before the moon is full, or the gates will lock and the partywill be over before it even starts. Can they get through the foggywoods, past the Candy Corn Patch and over the drawbridge in time? Withyour help — and the right mousketools – they might make it! JoinMickey, Minnie, Goofy, Donald, Daisy and Pluto for three magicalmouseketales that celebrate the power of teamwork, caring and sharing.
Plus, as a special bonus treat, blast off with the Little Einsteins™on a high-spirited Halloween adventure. Overflowing with music,laughter and nonstop fun for the whole family, MICKEY'S TREAT will makethe Mickey Mouse Clubhouse your favorite haunt on Halloween or any timeof the year!
Bonus features include a bonus episode of "A LittleEinsteinss™ Halloween" and DVD-ROM Halloween Party Planning Activities:"Spooky Clubhouse Cookbook" and "Creepy Clubhouse Character Stencils."
Check out these clips: Trailer, Woods, Extended Clip, and these Activities.
To enter to win one of three DVDs, post a comment with whatyour family will be dressing as for Halloween this year. If youhaven't figured it out yet, tell us what your kids wore last year forHalloween. And post a link to a post of your costumes if you have it!
Last year, Anya was a chicken and the year before, at 2 weeks old, she was a pea in a pod. This year I think she might wear a traditional Vietnamese ao daithat my mother-in-law gave us, if it still fits. I know it's notreally a costume but I can't think of any other time for her to wear itand it's so cute.