We have a No Slippy Hair Clippy Girl winner!

We all know that hair clips fall out, but not these hair clips. Theystay in, even when she's shaking her head, "No!" Hopefully, she's notdoing that very often, but hey, there are so many times when you justwant to take her picture, because she's just that cute!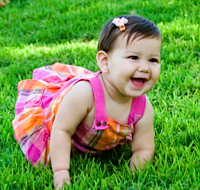 And we have a winner! Her name is Mia and here she is playing in the grass wearing her Savannah No Slippy Hair Clippy in Apricot.

She will have her photo posted on the No Slippy Hair Clippy website AND receive 24 No Slippy hair clips of her mom Monique's choice.
Click Continue Reading for the finalists. The five finalists will each receive 5 clips.
Be sure to check out No Slippy's great selection of Last Chance clippies– $5.99 each, for a limited time, and then the styles are being retired.
And exclusively for Celebrity Baby Blog readers: Buy 3 regular priced
clips, get 4th clip FREE! Use coupon code CBB and include name & clip color of the free clip in comments box @ checkout.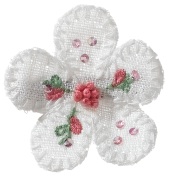 Kiersten's mom Heather told us that she loves her bows and is "such a princess." She's wearing two white Lacy flowers.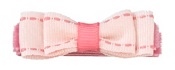 Audrey is wearing an Annabelle bow, which goes with almost everything. Her mom Karen told us that she loves her No Slippy clips more than she loves to drive!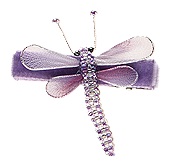 Whitney says, "It makes me so happy that my No Slippy Hair Clippy won't fall out." Her mom is Amy. Whitney is wearing a Daniella dragonfly.


Kassandra's mom Yenny said that wherever they go, people always ask her where she got her fashionable hair accessories. Kassandra is wearing a Grace flower.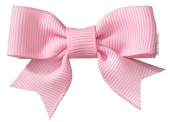 Is this your baby? We cannot locate this baby's mom's original email address — if she is your baby, please email danielle at celebrity-babies.com.
She is wearing a Devyn scrunch flower and Emily bow.