The Rock dresses in drag for his daughter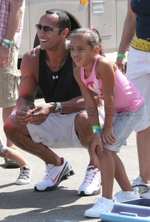 With one month to go until Halloween, Dwayne "The Rock" Johnson'sdaughter Simone Alexandra, 6, already has her costume picked out –she's going to be a princess. As for her dad, he wanted to go as herPrince Charming, but Simone had other ideas, The Rock, 35, tells JayLeno on The Tonight Show.
I just did an episode of Hannah Montana and she said, 'I want you todress up like you're on Hannah Montana.' And I said, 'Well, there's aproblem — daddy is in what we call drag. Daddy can't do that.'
Teased by Jay that he would be disappointing his daughter if he didn't, the Game Plan star agrees.
I know. I have to go. I have to go in drag.