Update: Giveaway: NOW That's What I Call Music! Volume 25
Update: The winners are 'momof2girlies,' who loves Gwen Stefani's Sweet Escape so much she even has it as her ringtone even though she doesn't even own the CD, Sue, whose 3 year old daughter loves to belt out Carrie Underwood's Before He Cheats whenever they're in the car (and her 5 year old son loves Avril Lavigne's Girlfriend!). Wow- that seems so wrong but totally hilarious!
---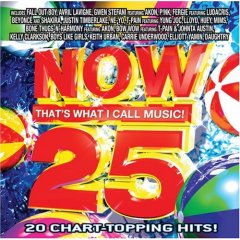 Pop music is such a guilty pleasure for me so I thought it would be fun to offer a giveaway of NOW That's What I Call Music! Volume 25. Yes, they are up to 25.
Having debuted at #1 on the Billboard chart Top 200, NOW That's What I Call Music! Volume 25
features current chart favoritesfrom superstar artists like Carrie Underwood, T-Pain,Beyonce, Shakira, Fergie, Pink, Justin Timberlake, Gwen Stefani andKelly Clarkson. Also included are huge hits from hot newcomers likeHuey, Boys Like Girls, Lloyd, Mims and Elliot Yamin. Click Continue Reading for the full track listing. You can also check out the NOW Official Site.
To enter to win one of two copies, tell us what your favorite guilty pleasure song is and why. Contest closes today at 5 pm EST.
NOW That's What I Call Music! Vol. 25 Tracklisting:
1. Fall Out Boy Thnks Fr Th Mmrs (UMG)
2. Avril Lavigne Girlfriend (Arista)
3. Gwen Stefani w/Akon The Sweet Escape (UMG)
4. Pink U & UR Hand (Zomba)
5. Fergie w/Ludacris Glamorous (UMG)
6. Beyonce/Shakira Beautiful Liar (Sony BMG)
7. Justin Timberlake Summer Love (Zomba)
8. Ne-Yo Because Of You (UMG)
9. T-Pain w/Yung Joc Buy You A Drank (Zomba)
10. Lloyd Get It Shawty (UMG)
11. Huey Pop, Lock & Drop It (Zomba)
12. Mims Like This (EMI)
13. Bone Thugs-N-Harmony w/Akon I Tried (UMG)
14. Bow Wow w/T-Pain and Johnta Austin Outta My System (Sony BMG)
15. Kelly Clarkson Never Again (RCA)
16. Boys Like Girls The Great Escape (Sony BMG)
17. Keith Urban I Told You So (EMI)
18. Carrie Underwood Before He Cheats (Arista)
19. Elliot Yamin Wait For You (RED)
20. Daughtry Home (RCA)