Milla Jovovich laments the unpleasant surprises of pregnancy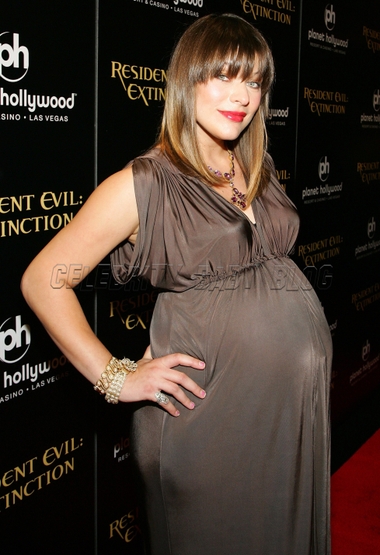 Actress and mom-to-be Milla Jovovich has already been candid about her weight gain with her first pregnancy, and now she's being candid about all the other unpleasantness that can sometimes accompany women in their third trimester. While doing press for Resident Evil: Extinction, Milla told a reporter,
Honey, my bones seem soft now and my feet are killing me. All the physical training I've had to be a model and to do action films like 'Resident Evil' really helps. So I strongly encourage women who are even thinking about getting pregnant to really hit the gym before trying to conceive. It will still hurt to walk. No one tells you that part! But I can tell you that prior to conceiving get in your optimum shape. You will be glad.
Speaking of feet, Milla says that her own "have grown three sizes."
They don't tell you that part, either. I can barely wear flip-flops. And now I have a whole new appreciation for my old body. Right now I can't get out of my stretch empire T-shirt dresses.
Although her mom insists that while pregnant with Milla, she was "skin and bones and just had a little bump," Milla seems to be taking her own 63-lb weight gain (slightly less than the 70 she mentioned before; although she may be there by the end!) in stride. The actress hinted, however, that her recent change in dietary habits came at her obstetrician's urging.
I'm happy to tell all the pregnant ladies out there that I've gone from 130 pounds to 193 pounds. It's a lot of weight to put on quickly and I only have myself to blame. I could eat peanut butter sandwiches and bagels all day. I see no problem with it. Of course my doctor does see a problem with it. So I've gone cold turkey on the bread. I'm doing chicken and veggies and trying to be the healthiest mother. But if I could continue with the peanut butter, I'd be the happiest mom in the world!
The baby, a girl, is due in November and will be the first for Milla and fiance Paul W.S. Anderson.
Source: Chicago Sun Times