Brad Pitt hopes the kids don't inherit his dance moves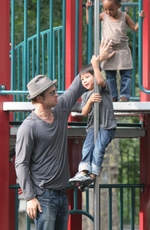 Brad Pitt opened up to Diane Sawyer in an additional interview on Good Morning America regarding his hopes for his four children — Maddox Chivan, 6, Pax Thien, 3 1/2, Zahara Marley, 2 1/2, and Shiloh Nouvel, 15 1/2 months. His greatest hope: the kids don't inherit his and partner Angelina Jolie's dance moves.
We hope they're not soaking up our moves because they'd be seriously lacking in their future. We'll get them some proper training. There's a lot of dancing around the house, a lot of music time.
When asked what kind of music they dance to, the forty-three year old actor admitted the family's love of The Wheels on the Bus.
Wheels on the bus and there's, you know, five monkeys jumping on a bed – [singing] no more monkeys jumping on the bed!
Brad said he and Angelina most cherish their bedtime rituals with the kids, which are similar to the rituals he followed as a child.
It is a really special time, a time I value and it's that one-on-one time where you really ask the questions and I want to make sure they have that.
Source: People