Michael Douglas admits to having put career ahead of family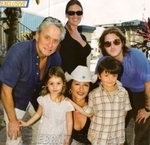 In his new film
King of California
,
Michael Douglas
plays a neglectful, not to mention mentally unstable, father, and the actor admits the former label rang true for him a little bit in regards to his oldest son
Cameron
, now 28, with ex-wife
Diandra
.
I certainly connected with the idea that your career can become all-important. I was aggressively pursing my career and that was my first priority, and I think my older son, Cameron, who's 28 now, probably didn't get the benefit of having me around that my two younger kids have. Now, I've sort of changed my priorities.
Claiming to have "settled down," the 62-year-old says family is definitely his main concern now and he has no problem staying at home with Dylan, 7, and Carys, 4, while Catherine Zeta-Jones continues to act.
I also don't mind being Mr. Mom. My wife is 25 years younger, and in the prime of her career, and I'm happy to give her as much space and time as she needs, especially as talented as she is.
Source: Parade