Jenny McCarthy and Holly Robinson Peete discuss their battles with autism on Oprah
Actresses Jenny McCarthy, 34, and Holly Robinson Peete, 43, appeared on Oprah earlier today to discuss their sons — Evan Joseph, 5, and Rodney, Jr., who will be 10 next month — autism diagnoses. Holly previously discussed her family's experience in People in May, while Jenny confirmed rumors on The View the same month.
Click below to read Jenny and Holly's experiences with autism, as told to Oprah. If anyone knows where we can find video of the show for those that missed it, please leave a comment or send an email.

Jenny's Story: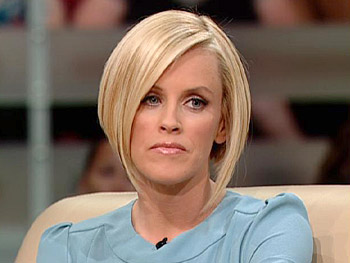 As aninfant, Evan was full of life, making eye contact and smiling, but soonthings started to change.
It started with hand flapping. You only look for the good signs. God was giving me many hints about my son,and I didn't quite see them. So I know that he had to wakeme up with two really big ones.
Jenny says the first of those "big hints" came on a typical morningwhen Evan was 2 1/2 years old. When Evan, who usually got up at 7 am,wasn't stirring by 7:45 am, Jenny knew something was wrong. She ran tothe nursery.
I open the door and run to his crib and I find him in hiscrib, convulsing, struggling to breathe, his eyeballs rolled to theback of his head. I picked him up and I started screamingat the top of my lungs…the paramedics came, and it took about 20minutes for the seizure to stop.
When they arrived at the hospital, Jenny says doctors told her that herson had a febrile seizure, caused by a fever.
I said to the doctor,'Well, you know, he doesn't really have a fever, so how does that playin this scenario?' [The doctor said], 'Well, he couldhave been getting one.' That was the response I got…I went home withmy baby going, 'You know what? Something's wrong and I don't know whatit is, but I feel it.'
About three weeks after the initial seizure, Evan had a second episode.Jenny says she had driven him three hours to see his grandparents whenshe noticed a "kind of stoned look on his face" as she handed him tohis grandmother.
I walk into the bedroom to give Evan his bottle, andhe's lying flat on the bed with his eyes rolled in the back of hishead. I called 911 because I knew it was happening again.
Her instinct was to put cold rags on him — a common treatment for febrileseizures. But Jenny says this one was different.
He wasn't convulsing,nor was he trying to get any breath — [there was] just foam coming out ofhis mouth. I put my hand on him, and I kept saying, 'Juststay with me,' because I felt like he was going. And after a fewmoments, I felt his heart stop.'
When paramedics arrived they began CPR on Evan.
At that very momentthat I watched my baby trying to get his heart started, I rememberthinking, 'Why?' And then I heard this voice [inside me]that said, 'Everything is going to be okay.' I don't know how in themidst of hell that I was in that this voice [said], 'Everything's goingto be okay,' and it's like…peace came over my body.
The paramedics revived Evan, but with no available helicopter, he hadto be driven three hours back to Los Angeles for treatment.
In thattime, he had another seizure. By the time we got to the Los Angeleshospital, he had seven more seizures within a seven-hour period.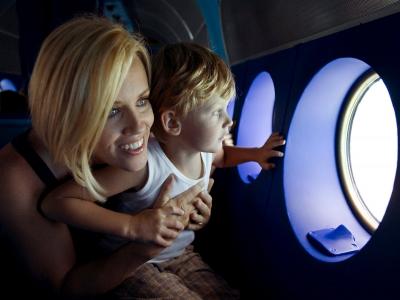 Two days later, a doctor diagnosed Evan with epilepsy.
[Thedoctor said], 'There's got to be someone with seizures on your side ofthe family.' I said, 'No, actually I know every branch. I know what'sgoing on. There's nothing. No one [with] epilepsy.' And theydischarged us.
Jenny says every instinct she had was telling her that her son was not epileptic — so she went for a second opinion. After spending 20 minutes with Evan, a neurologist gave Jenny what shedescribes as a devastating diagnosis — Evan had autism.
And boy, mymommy instinct said, 'This man is right.'
Jenny says hearing the words made her feel "like death."
[The doctor]said, 'Hey, don't forget. This is the same little boy you came in thisroom with. He's not any different. He's the same boy. And,true, he was correct. He was the same boy. But I did happen to say,'Well, I believe my son is trapped inside. I'm not settling for this.'
In hindsight, Jenny realizes she missed signs of Evan's autism — such ashis obsession with moving objects. Others had noticed somethingdifferent about Evan, too.
My mother-in-law said, 'He doesn't reallyshow affection,' and I threw her out of the house. I wentto a play gym, and the woman [there] said, 'Does your son have a brainproblem?' … [I said], 'How dare you say something about my child? Ilove him. He's perfect. You can't say that about a child.' I just had no idea.
As with most autistic children, Jenny says she noticed that Evan'spersonality seemed to be locked inside him — and she was determined toget him out. She began scouring the Internet, where she read recoverystories and discovered treatment options.
One treatment Jennydecided to try was a change in eating habits. She immediately startedeliminating gluten and casein, found in wheat and dairy products, fromEvan's diet.
In two weeks to three weeks — and this isn't for everyone,to get a reaction like this — Evan doubled his language. [There was] eye contact, smiling, more affection.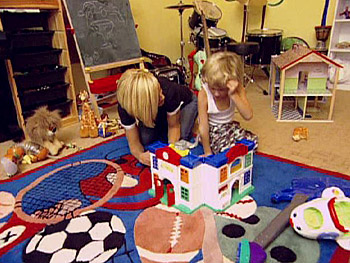 To help Evan learn to play with toys as other children do, Jenny triedanother approach — video modeling and play therapy. Because Evan didn'tknow how to play catch, Jenny showed him a video of her catching aball. From that day on, Jenny says he was into the game. She used playtherapy to help him learn in other ways.
A lot of kids on the [autism]spectrum, including Evan, would take [a toy] car and just line them upor turn them upside down and just [spin the wheels]. Soplay therapy literally is teaching him that the car can go on anadventure.
With the help of these treatments, Jenny says Evan, now 5, is makinggreat strides.
I consider him in recovery. There's still things weneed to work on — seizures, stuff with abstract understanding, but forthe most part he's a typical child in normal school.
Whilethese therapies worked for Evan, Jenny emphasizes that it might notwork for every child with autism.
I'm just a mom telling a story ofother moms. We want to share it and say our kids do get better. [It's like] chemotherapy. It doesn't work for every cancervictim, but you know what? You're going to give it a try.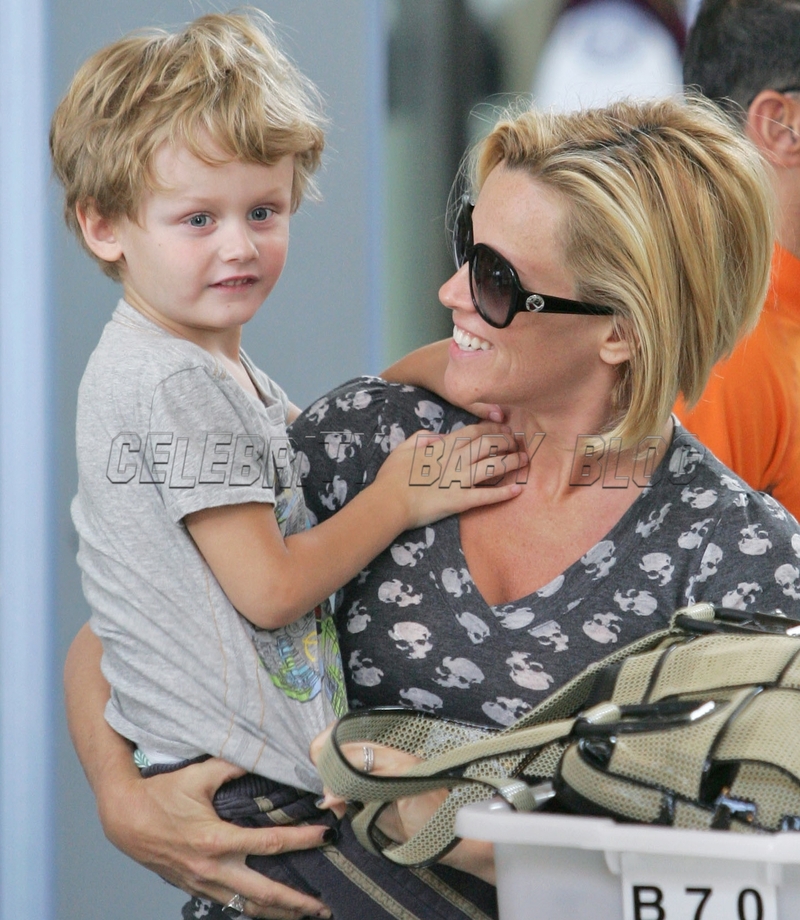 In recent years, the number of children diagnosed with autism has risenfrom 1 in every 500 children to 1 in 150 — and science has not discovereda reason why. Jenny says she believes that childhood vaccinations mayplay a part.
What n
umber will it take for people just to startlistening to what the mothers of children who have seen autism havebeen saying for years, which is, 'We vaccinated our baby and something happened.'
Jenny says even before Evan received his vaccines, she tried to talk toher pediatrician about it.
Right before his MMR shot, I said to thedoctor, 'I have a very bad feeling about this shot. This is the autismshot, isn't it?' And he said, 'No, that is ridiculous. It is a mother'sdesperate attempt to blame something,' and he swore at me, and then thenurse gave [Evan] the shot. And I remember going, 'Oh, God,I hope he's right.' And soon thereafter — boom — the soul's gone from hiseyes.
Despite her belief, Jenny says she is not against vaccines.
I am allfor them, but there needs to be a safer vaccine schedule. There needsto be something done. The fact that the [Centers for Disease Controland Prevention] acts as if these vaccines are one size fits all is justcrazy to me. People need to start listening to what themoms have been saying.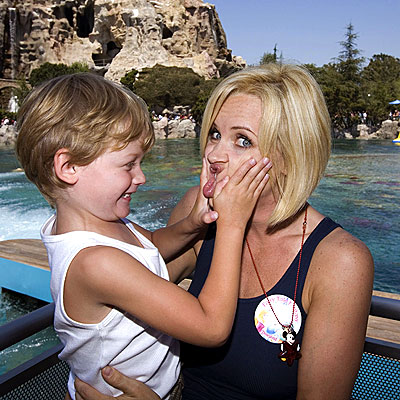 Soon after Evan's diagnosis, Jenny says the stress of raising a childwith autism began to take a toll on her marriage. An autism advocacyorganization reports that the divorce rate within the autism communityis staggering. According to its research, 80% of all marriagesend.
I believe it, because I lived it. I felt very alone in my marriage.
Jenny says her husband, John Asher, dealt with his pain by staying away, even whenEvan was in the hospital.
He never sat down and said, 'What did youfind out on Google?' There was never that connection ofwanting to know and being there.
When Jenny's marriage ended, she says she felt sad — and scared.
Afterthe divorce, even though it felt good and the right thing to do, Ifelt, as I'm sure many mothers with children who have autism feel, 'Whoin the heck is going to love me with my child who has autism?' I don't care how big your boobs are or blonde your hairis — you're going to feel that way.
Jenny says she began to pray every day that she'd find a man with a big enough heart to love her andEvan.
We come as a pair. I kept that hope, that vision ofa man coming into my life that would love us both equally.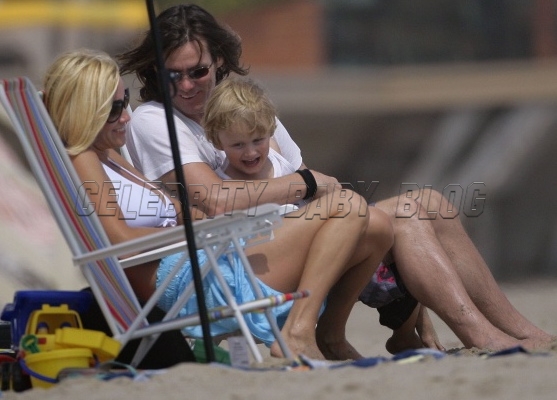 In the midst of the seizures, doctor visits and divorce, Jenny met the man she was looking for, actor Jim Carrey.
The pair hit it off right away, but Jenny says she waited a few monthsto tell him about Evan's diagnosis.
I did not tell him initially, youknow, 'Hi, how are you? I have a child with autism. Do you want to dateme?' It's something you're personally kind of afraid toshare.
In the beginning, Jenny says she was just looking for someone to holdher and notice her pretty new blouse. "I just needed that so badly,"she says.
At one point in their relationship, Jenny says she had to say goodbyeto Jim because Evan's condition was getting worse. Suddenly, she saysher priorities went from kissing Jim on the sofa to focusing solely onher child's health.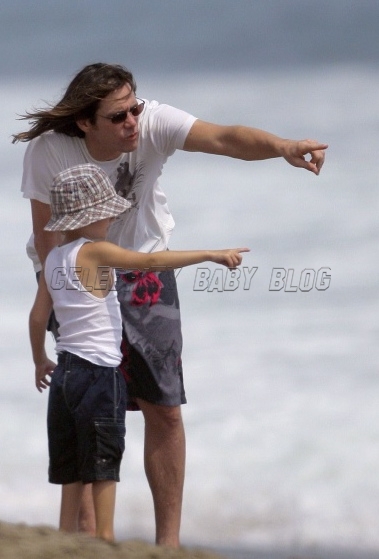 When Evan began to recover, Jenny's "girl instincts" took over. Shesays she sent Jim a text message that said, "Is there still room onyour sofa or has the seat been filled?" Jim replied, "Your seat willalways be here." From that day on, Jenny says Jim has been a big part of her and Evan'slife.
He has been so wonderful in Evan's life. Let me tellyou, ladies, Jim Carrey knows a lot about autism. He has been throughit all with me…He did fall in love with Evan, and he's so good withhim. [He's] opened his heart and the relationship is great.
Jenny calls fellow actress Holly Robinson Peete her "angel." In their first phoneconversation, Holly says they talked for about nine hours. "[Holly]gave me that hope that no doctor did," Jenny says.
Holly's Story:
Holly and her husband, retired NFL quarterback Rodney Peete, receivedtheir son R.J.'s diagnosis in 1999 but waited until the summer of 2007to go public with their experiences. Holly says they waited to talkabout autism until they felt more informed.
I didn't feel like I knewenough about the disorder at that point.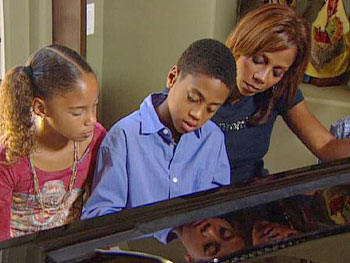 Back in 1999, Holly says there were very few resources for parents ofautistic children. Even doctors were less informed than they are today.
I had a developmental pediatrician tell me, 'Your son will never dothis, he will never say he loves you, he will never do that. It was a very interesting ride.
Previously, 1 in 500 children was diagnosed with this neurologicaldisorder. Today, Holly says 1 in every 94 boys is affected. For unknownreasons, autism disproportionately affects boys.
Over the years, Holly says she's realized autism is like a wall aroundyour child.
You have to be like a superhero…and kickthat wall down and make cracks in that wall to bring your childthrough. You have a very short window of time, and you haveto get busy — the more cracks you make, the more you have anopportunity to bring them into our world.
Like Jenny, Hollyhas tried to reverse the effects of her son's autism with dietaryprograms and behavior therapies. When Holly got R.J. tested and foundout he was allergic to gluten, she put him on a wheat-free diet.
[Gluten] makes him crazy. And he can't focus. So we tookthe wheat out, and that made a huge difference.
Holly says she and Rodney have also tried every type of therapy — fromspeech therapy to floor time to applied behavioral analysis.
He'sresponded to some things well and others not so well. We'vetried to focus [on the most successful] and pick and choose.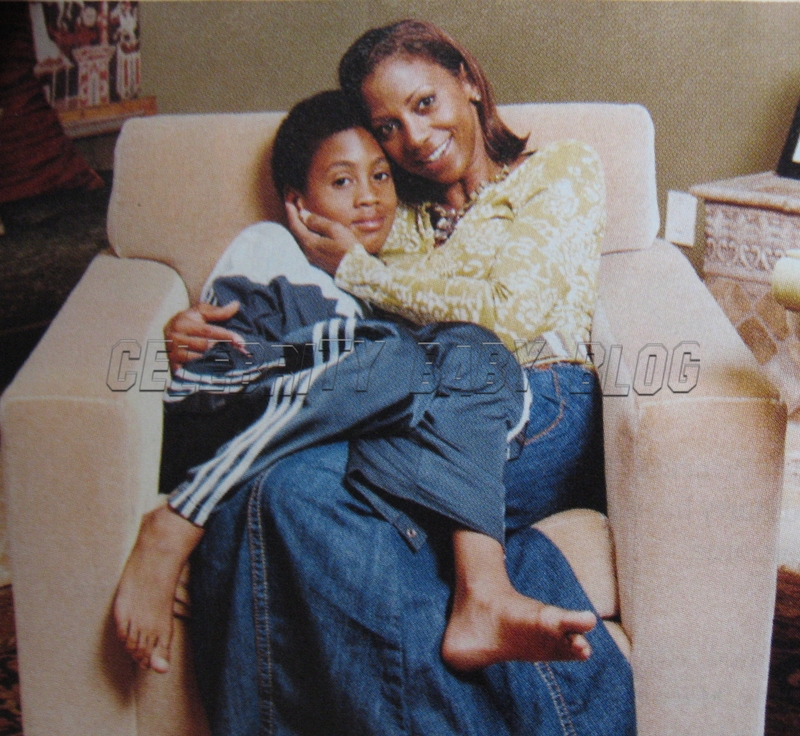 They have also tried to focus on maintaining a healthy, happyrelationship. Holl
y says autism impacted her marriage, but she andRodney learned to rely on each other when times were tough.
I just amso lucky to have him. I know how hard it is for the men and theirboys. We women, you know, we fight and we do what we haveto do. I'm just glad he stuck around to be my partner in this thing,because I couldn't have done it without him.
R.J., who turns 10 years old in October, has made a lot ofprogress over the years thanks to Holly and Rodney's persistence andpatience. He has even learned to play the piano.
He has perfectpitch.
Although some family members were critical of Holly and Rodney'sdecision to go public with their son's disorder, Holly is happy withthe outcome.
My son is amazing. He's come a long way, and he is veryconscious of the fact that he's helping other people by the familysharing his story.
By talking openly about autism, Holly hopes people will begin to changetheir perception of the children who live with it every day.
We needto value these children that are here. We need to stop thinking aboutthem as children who are retarded. We need to stop thinkingabout them as children who don't have the capacity to learn.
Holly says R.J. was kicked out of one school because the educatorsdeemed him "unteachable." Now, he's working with a partner in a newschool and making strides.
We have to figure out how their brainswork. There are a lot of people who are on the spectrumwho are brilliant.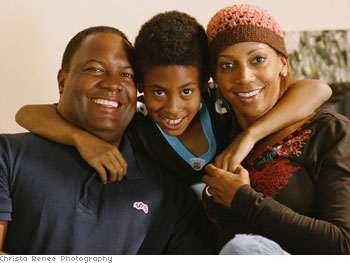 Many parents of children with autism may not have the same success asJenny and Holly, but these Hollywood moms want them to come away withone thing — hope.
I want to say [to parents], you're not alone. There'sa lot of hope. It's a new day in the world of autism, andwe're fighting.
Holly says the CDC's statement aboutvaccinations has given her hope that parents and medical professionalscan lay down their arms and open the lines of communication.
I wouldjust say to the pediatricians, listen to [mothers] sometimes and giveus a little bit more respect. Our gut is really dead on.
Jenny urges moms in her situation not to feel guilty about their child's diagnosis and to trust their instincts.
You can also watch a video of Rodney Peete talking about his son here.
Article/photo/video source: Oprah
Jenny's new book, Louder Than Words: A Mother's Journey in Healing Autism is available now.