Celebrity-loved Pure T Maternity introduces their fall line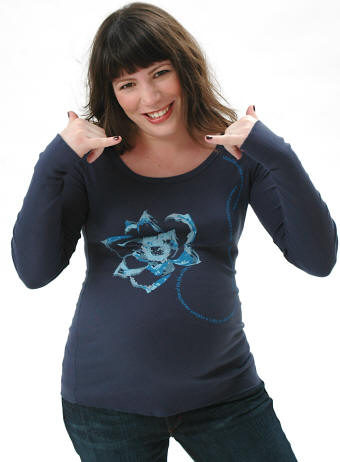 The new fall line of Pure T maternitytees are now out. Celeb mamas Bridget Moynahan, Maggie Gyllenhaal and Heidi Klum have all been seen in this super soft t-shirt line that was born out of a celebration oflove and the blossoming bump. The brand's signature trademark is asingle lotus bloom that adorns the inside of each garment and isaccented by a Swarovski crystal. (The lotus flower signifies prosperity,feminine beauty and birth.)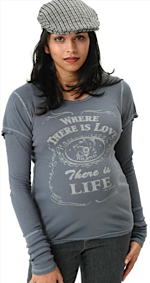 The fall line includes its signature lotus haiku tee (left) in long sleeve with raw edges in the softest modal/cotton fabric. And several new tees including the very sweet Eternally Kissed tee which states on the back "The kissed that lasts forever." Their layered thermal tee with "Where There is Love There is Life" screenprinted on the front is already a hit (right). And for the spicier mama is the Sizzlin Mama tee that says "HOT" in big bold letters across the front.
All Pure T tees are made in the USA, are sweatshop-friendly, and of course, mama-friendly.
Exclusively for Celebrity Baby Blog Readers: Enjoy 20% off through September 30 with purchases over $50 using code cbb20 at 9 Months to Grow.
For our Canadian readers: Get free standard shipping with coupon code CBBFREE at ChloeInStyle.com.