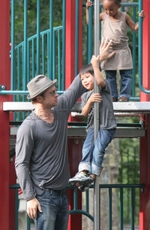 Update: Additional quotations added.
Actor Brad Pitt, 43, is making the media rounds in promotion of his new film The Assassination of Jesse James by the Coward Robert Ford. In so doing, Brad has talked to USA Today and the Associated Press (AP) about his family and the influence the paparazzi has on their lives, as well as the possibility of more children. Brad and partner, Angelina Jolie, 32, raise four children; Maddox Chivan, 6, Pax Thien, 3 1/2, Zahara Marley, 2 1/2, and Shiloh Nouvel, 15 1/2 months.
One interview took place while Brad was in Toronto and he had already been away from his children for two days. Two days too many.
Two days without the kids [he mutters, shaking his head.]
The main thing that concerns Brad is the presence of the paparazzi around his children. Though he does insist that he understands the nature of their work.
I understand the deal [of the paparazzi]. It got chaotic last night, but there was genuine happiness, and it meant something to them. It only bothers me when they get in the kid's faces.
Brad also mentioned that he and Angelina are not done in adding to their ever-expanding brood.
We're certainly not done. They say, 'Any plans for a fifth?' And I say, 'And a sixth, and a seventh, and an eighth, and a ninth.' That's my answer…
The couple have spoken in the past about how much they enjoy a family bed. Brad said that although their custom-made 9-foot wide bed is "just big enough" to fit the family of six, more children means the co-sleeping accommodations will need to be re-visited.
One more and we'll have to go to 11 feet.
However, an interviewer with USA Today did question how the constant travel and movement effects the children.
We just take turns and make sure we keep the family together. It's impossible for us [to stay put]. We're run out of every majorcity. There's just too many paparazzi. There's always cameras in thekids' faces, yelling their names. Angie gets out of the car, and theytake the camera down to the curb and shoot up [her skirt]. It'sunbelievable…there's a constant negotiation in how to survive and howto maintain a family life.