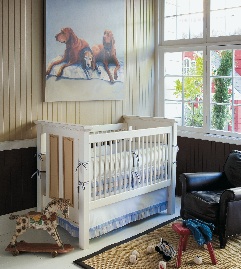 Serena & Lily is an upscale children's linens and homewares company that features fresh, stylish and supremely practical items. In addition to their beautiful collection of new signature bedding for crib to queen size beds, Serena & Lily has also introduced a line of low V.O.C. paints in 15 hue-perfect colors. These paints are low-impact, which means there is minimal odor, plus they are matte scrubbable, making cleaning the walls quick and simple. (Read our review of the paint line here. Anya's new bedroom in our new home has been painted with Shell.)
Serena & Lily's complete homewares collection, which also includes coordinating lamps, headboards, gliders, pillows and rugs, gives parents the opportunity to carry Serena & Lily's sophisticated nursery style through every stage of their child's life. Celebrity fans include Jennifer Garner, supermodel Linda Evangelista, bridal gown designer Monique Lhuillier, and 20/20's Elizabeth Vargas.
Together with Serena & Lily, we are giving away one Serena & Lily crib set, valued at $530. The winner may choose from the following designs: Lucy (girl), Cameron (neutral), or Harrison (boy).
The giveaway closes Friday, September 21 at 9 am EST.