Helen Hunt "meant to be a mother"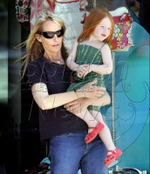 Helen Hunt has said she's become extremely strict in regards to work since she became a mom to Makena'Lei Gordon, now 3. When she decided to make her directorial debut with Then She Found Me, in which she also stars, it was partially because the subject matter hit close to home. The film chronicles the journey of a middle-aged woman yearning to have a child while trying to find her biological mother. Helen, 44, says the story was partially inspired by her own "wish to have a daughter."
It was very clear to me that I was meant to be a mother and I wasn't sure I'd get the chance.
Now that she has, she makes sure Makena'Lei is her top priority, planning her schedule around her daughter's.
She had cubby day at school on Thursday, so we took the red-eye in for the [Friday] premiere (in Toronto). We put in her sun hat and change of clothes.
Makena'Lei's father is Helen's longtime boyfriend, writer/producer Matthew Carnahan.
Source: USA Today