Joey Fatone on fatherhood and not missing the first day of school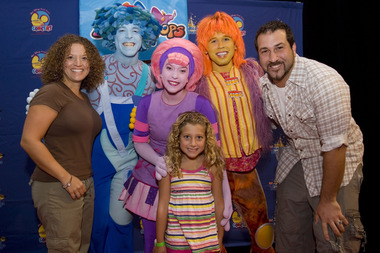 Lovable goofball Joey Fatone has found a great reason to keep jokingaround — fatherhood. The Singing Bee host tells OK! that being dad toBriahna, 6, has brought out his inner kid even more, so much thathis wife Kelly Baldwin considers him a second child.
It has made me more of a kid, I would say. I am like such a kid. I like going to Disney withmy daughter and stuff and having fun and going to play and it is justhysterical. My wife always tells me she has two kids instead of justone.
When he's not being a big kid, the 30-year-old makes sure he's presentfor all the important events in his daughter's life, like the first dayof school. Joey, who dropped Briahna off with her new lunchbox andBratz backpack, says there's practically a clause in his contracts requesting specific time off.
That is almost in my written handbook or my contract. I have to have Halloween off to take her trick-or-treating and I haveto be around obviously for the first day of school. There is no way Iwould miss it.
As far as giving Briahna a younger sibling, the former 'N Sync-er says it's always a possibility.
I mean we're not really planning it at this moment, but if it happens it happens.
Source: OK!