Gwen Stefani explains Kingston's turn on the catwalk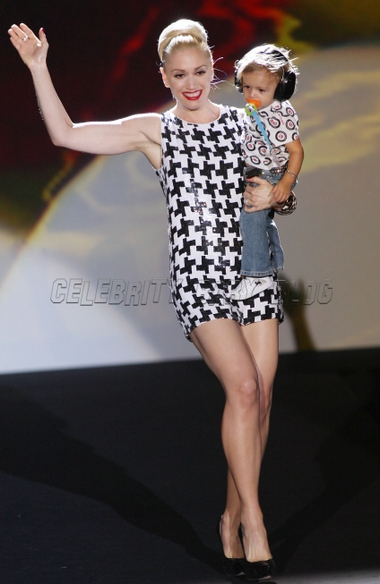 As she recently made her way to the runway of her L.A.M.B. spring 2008 show during New York City's fashion week, Gwen Stefani spotted her 15-month-old son Kingston sitting in the audience — and knew instinctively that she wouldn't be making the trip down the catwalk alone. It appears that touring with his mom in support of her second solo album has left young Kingston a wee bit attached to Gwen.
I didn't want to walk halfway down and not get him. He's in that phase where if I waved to him and walked to him, it would have been disastrous. It's really hard. We've been traveling the world.
The end of the tour and the debut of the newest L.A.M.B. line frees Gwen up to record an album with her band, No Doubt; The magnitude of the changes is not lost on the 37-year-old first-time mom, who noted that "I'm ending a whole chapter in my life."
I did these two dance records, and now I'll go back and do a No Doubt record. It's my first year of having a baby. It's a really substantial point in my life.
Kingston's dad is singer Gavin Rossdale.
Source: USA Today