Giveaway: The $336 Leather Baby Kaed Bag From Cool Mom Picks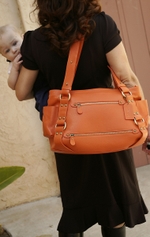 CBB's own fearless leader Danielle called Baby Kaed "the It diaper bag du jour" and who agrees? Britney Spears, Heidi Klum and Tori Spelling. Also, the editors of shopping blog Cool Mom Picks. And we want you to win your very own.
Yes you! (Not her, you.)
We've got one absolutely beautiful bag of your choice to give away from the leather Jaipur b-kaed collection. Click over for details and enter by midnight tonight and this $336 beauty can be yours.
And while you're at Cool Mom Picks, don't forget to sign up for the always fun monthly newsletter for a chance to win a Playgroup Envy goodie bag valued at more than $600! Details are on the homepage.