Dannielynn celebrates first birthday with a bash fit for a princess
Larry Birkhead went all out for his daughter, Dannielynn's, first birthday party which took place a day after her birthday on September 8. It included over 200 guests, an inflatable princess castle and two hot air balloons at the home of Tricia Barnstable Brown in Louisville, Kentucky. And while it was a princess theme, the character Barney made his appearance in a couple of places including the little girl's high chair, where she ate a chocolate and vanilla castle shaped cake.

The Insider's Lara Spencer spent some time with Larry discussing various aspects of his daughter's life including her mother, the late Anna Nicole Smith, who passed away when Dannielynn was five months old. What would Larry say to Anna if he could on this special occasion?
I would say, 'I hope you're proud of the way she's growing up and getting big.'
Dannielynn also lost her older brother, Daniel Smith, when she was just three days old and while he may no longer be here, you can still see glimpses of him in his sister. When asked about a resemblance between the two, Larry shared,
Yeah, sometimes. Especially when she gets out of the bath and her hairis parted to the side like a little boy, she looks a lot like Daniel.
Larry does everything that he can to try to ensure that his little girl will know her mother and brother. The 34-year-old father shared,
I show her pictures all the time and I say, 'This is your mommy andthis is your brother Daniel.' We talk about them all the time.
When all was said and done, Larry just wanted to provide his daughter with a fun day fit for a princess and when asked what he hoped to give her, he said,
Another happy day in life. I know she's not going tounderstand everything that's going on but just something that she cansay one day, 'Wow, what a cool party, what a cool dad!'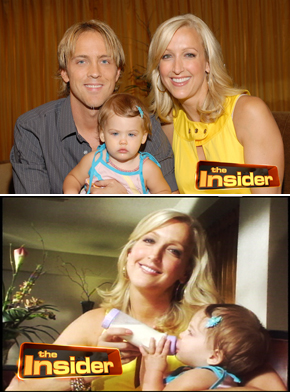 Source: The Insider and US Magazine