Vanessa Paradis talks about protecting her children from fame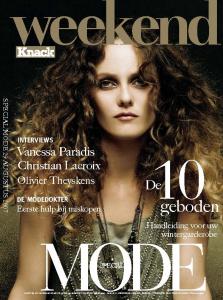 Singer Vanessa Paradis, 34, gave Weekend Knack, a Belgian magazine, an interview about her life and about her new album, Divinidylle, where her son Jack, 5 1/2, also contributes. Here are some excerpts from the interview,
In that song, Jackadi, your son is singing along. Was that your idea?

Yes. On my previous disc my daughter sang along. He needed his own song, I thought. It's a beautiful souvenir for when he's older. We'll always have little Jack on tape.

That is something that strikes in every article and interview with you: your holy devotion as mother and family woman. In the same articles it's always your own short childhood that's given as the reason. Like you need to keep up with the family love you missed back then.

Everybody likes to believe that, yes. How many times do I have to repeat this: my childhood was fantastic. And why is it so different that I am so devoted to my family? Like you have to be a bad mother when you're a "celebrity".

Again: I had incredibly many chances. And beautiful experiences that I don't want to trade for anything. Was life sometimes hard on a teenage who experienced both sides of fame so soon? Yes. Of course it was. Were there moments that I dreamt of a 'normal' childhood. Of course. But I don't want to be dramatic about that. I realize how unique my path has been. And I'm thankful for that. Even though I had to say goodbye to the childish carefreeness very early.

Is that something you want to protect your own children from? Fame coming too fast?

Because I make sure they're photographed as less as possible, you mean?

That too. But mostly: how would you react when your daughter comes up to you in two years saying that she wants to sing. Or act?

Well. I don't know. I presume I would support them. Look, now I indeed keep them away from the cameras, because I don't want our children to be forced to share in our fame against their will. They didn't ask for that. Not yet. The day that they will decide for themselves to do things that might bring them into the spotlights, then I won't stop them.

When my daughter tells me she wants to sing, that's fine. And then all I can do is try to protect her from the mistakes I made. I can only try to support her the best I can. Of course I hope she waits as long as she can, and that she stays a child as long as possible. But I won't forbid it. I mostly want to be friends with my children.
You live in the south of France, but also for long periods in Los Angeles. A preference?

For my children I secretly choose France. Even though Los Angeles is great too. We raise them bilingually anyway, so for them it doesn't really matter. Only, in the south of France you can live much more anonymously. And that's a bliss, especially when the children are still young.
You are getting married this summer?
God, we've been married for so long already! Can you be more married than having children together then?

Vanessa and partner Johnny Depp, 44, also have daughter Lily-Rose, 8.
Source: Weekend Knack via vanessaparadis.info
Thanks to CBB reader Inge.