Update: Salma Hayek's baby shower gifts; possible baby name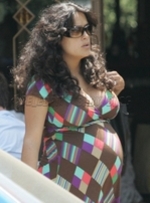 Update: Access Hollywood has video footage of some more of Salma's gear, including a modern pink Bloom 'Coco' Lounger ($350) purchased by fellow actress Penelope Cruz, and an Orbit infant system ($899), purchased by her manager. A representative for NoMi Boutique pointed out the dual-purpose of the infant carrier's extended sunshade, noting that it can also serve as an 'anti-paparazzi' device.
Originally posted August 29th: Salma Hayek celebrated her baby shower on Saturday, Aug. 25, at her Hollywood Hills home and got a load of presents for her and fiance Francois Henri-Pinault's first child. Registered at NoMi Boutique, the actress, who turns 41 on Sunday, received Pentunia Pickle Bottom Cake bags in black ($325) and pink ($425), two Bloom high chairs ($400 each) and Graco SnugRide car seats ($130 each).
Guest Pia Lindstrom said the mother-to-be had a blast at the party.
She was very excited about everything. She was full of pregnancy glow and looked so happy.
Salma has not announced her due date or the sex of her baby, but gift cards were made out to "Valentina."
Source: Us Weekly, September 10 issue, pg 69