Rumor: Aracely Arambula and Luis Miguel expecting second baby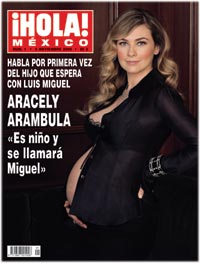 Although nothing has been confirmed as of yet, Latin pop star Luis Miguel, 37, and his girlfriend, former actress and singer Aracely Arambula, 32, might be expecting baby #2. During a Mexico City press conference Mexican singer Yuri, 43, made a comment regarding her friend Luis and his girlfriend. When asked "what she thought about [Aracely's pregnancy," Yuri responded:
It made me very happy. My husband [Rodrigo Espinoza] and I are both Luis Miguel fans; I love him a lot, and we always want the people we love to be happy.
She went on to say later,
I'm happy that Aracely is pregnant again, it's great, I say. If I were her I'd do the same. I wish them a lot of happiness and that the child arrives soon.
Luis and Aracely have a son together by the name of Miguel Gallego Arambula, 8 months.
Source: People en Español