David Duchovny on the dangers of the Internet and bargaining with Miller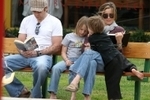 Californication star David Duchovny stopped by Late Night with Conan O'Brien and shared somealways interesting stories about his and Téa Leoni's children,Madeleine West, 8, and Kyd Miller, 5. Using the Internet to help her onher report for bears, West pulled up ten results and one of them wasn'tquite like the others.
I went back and looked because you never know what they'reexposed to on the Internet and it was on my computer and I saw 'bears'and it gives you like 10 options or whatever. On the fourth or fifthoption was a gay magazine 'cause a bear is a very hairy gay man…Icould not rack my brain around the idea of my daughter — she probablydidn't — I could only hope she didn't open up her fifth open, whichwas to look at these hairy men and what she thought, you know, 'Whatkind of bear is that?'
As for Miller, no such issues with the World Wide Web justyet. The only thing he's concerned with nowadays is money, David, 47,says.
He's a miser. I'm half-Jewish and half-Scottish, so he hadno shot with the money, so he just hoards. He's got all these dollarbills and puts it in a lunch box. He's got $170 and he wants an iPod,but he doesn't want to pay for it — he wants us to buy it.

I said, 'You have enough money, buy yourself an iPod.' Andhe's like, 'No, 'cause then I won't have any money left.' So I said, 'Howmuch money are you gonna save?' 'I'm gonna get a million dollars.' 'Andthen what are you gonna do?' He said, 'Spend a dollar.'
Miller might want to work on his math first before spending his dough.
Hereally wants a $100 bill, so I said, 'I'll give you a $100 bill for $100of yours — a couple twentys.' And he said, 'No, no, then you're takingmy money.' And I said, 'No, it's an exchange. It's the same thing.You're not losing any.' And he said, 'No, no. You can't take my money.'So I said, 'Okay, I'll give you $100 for $90,' which is a good deal. Sonow I think he's kind of a dumb miser.