Gwen Stefani envious of Kingston's attachment to Gavin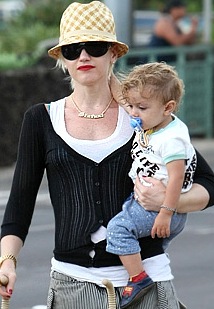 Songstress Gwen Stefani recently admitted she sometimes gets a bit envious of her husband's relationship with their son. She said fifteen-month old Kingston is very attached to his dad, rocker Gavin Rossdale, and Gwen sometimes feels neglected.
He's super into his dad right now. I am really happy for Gavin, but there is a part of me that is like, "What about me?" Kingston still doesn't sleep through the night, so his dad usually takes him for an hour or two in the morning so that I can sleep. And as soon as Gavin goes to brush his teeth, Kingston starts crying – it's hilarious.
However, it's not always so funny. When Gwen — who is in NYC for the night to promote her new perfume while her husband and son are in Los Angeles — is asked more about Kingston, she replies,
Oh, please don't go there. It's the first time I have left him and I am very emotional. It's difficult and I struggle with it, but just when I think my plate is a little too full, Gavin comes to the rescue and the next thing you know, it all works out.
Gwen, 37, and family enjoyed a week's vacation in Maui last month during a break in her Sweet Escape tour. She will return to the stage later this month for the rest of her European tour.
Source: PR Inside