Featured Review: Ned Design – Art You Never Outgrow!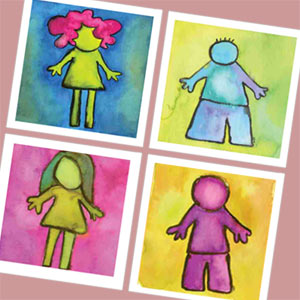 Artist Susie Lubell created Ned Design with the idea that this is art you never outgrow – it can be moved from the nursery to dorm room to studio apartment to first home, back into the nursery! Full of charm and spirit, you're going to love the Neds as much as we did!!
According to Ms. Lubell, "Ned Design couples the simplistic charm of folk art with the sophistication of modern design. The Neds are a collection of watercolor paintings which have been digitally reproduced to achieve the rich color and translucence of the original works. Printed on heavyweight coated paper, Neds are available as framed prints, note cards, gift cards, personalized stationary or invitations."
The owner, Susie Lubell, is a self-taught artist and entrepreneur who has been sketching lopsided watercolored figures for 10 years before she launched her company. After she had her own baby boy, she developed her Neds into a line of distinctive prints – great for a nursery or anywhere in the home. They are so adorable and you won't find anything like them!!
Actor Joshua Malina, starring on the new ABC show airing this fall, Big Shots, is a client. He commissioned two Ned originals for his kids and has ordered prints as gifts.
Want to get a Ned Design for your nursery? Shop online at Neddesign.com.
Exclusive for CBB Readers: Use the code celebrity and get 15% off your order.