Baby Emi Jewelry's Cambodian Jingle Bells Anklet
You may remember Maddox Jolie-Pitt wearing a Cambodian jingly anklet when he was a toddler. Now you will probably spot one on the ankle of Kevin James' daughters, Sienna-Marie and Shea Joelle. The former King of Queens and his wife Steffania de la Cruz recently ordered a Cambodian Jingle Bells Anklet from Baby Emi Jewelry.

Debbie Savage, owner and designer of Baby Emi Jewelry, told me, "perhaps when she saw our anklet she was intrigued with my culture's tradition of baby jewelry gifting." Debbie's parents are from Cambodia and she herself is a first generation American.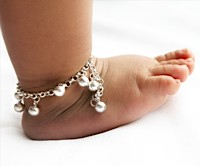 For thousands of years Cambodian mothers have adorned the feet of their babies with silver anklets that have small bells attached to them. Traditionally, it is believed that the delicate jingling sounds would protect young children by warding off bad spirits. They also serve a functional purpose by providing auditory clues to their children movements and activity. Debbie makes the anklet in infant through adult sizes, all of which have adjustable length for easy sizing.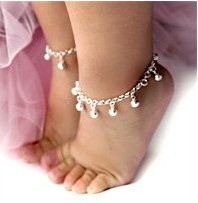 Named for her daughter, Debbie's jewelry company makes beautiful high-quality jewelry made to reflect "what is hot" in today's fashion world but still maintaining a timeless quality. Each piece is individually made especially for you and your posh tot showcasing his or her name on a personalized and customized bracelet using Swarovski crystals and pearls, sterling silver beads, semi-precious stones, and fiber optic beads.
Other celebrity babies wearing Baby Emi Jewelry include True Harlow, daughter of Joely Fisher, who has the Starlicious bracelet. Shar Jackson and Adam Sandler have also received some "glam" from Baby Emi Jewelry too. Anya received a Starry Glam bracelet with a heart charm and loves it (well, she loves eating it, but we love it for its aesthetic qualities!).
Exclusively for Celebrity Baby Blog Readers: Save 10% on your order at Baby Emi Jewelry when you use coupon code CBB10. Plus get free shipping and complimentary gift wrap. (Expires 12/31/07)
Does your culture have a baby jewelry gifting custom and/or a way of keeping track of babies musically?