Australian Father's Day Special
Australian families celebrated Father's Day this past Sunday. To mark the event here is a round up of Australian celebrities who are fathers with their children, including quotes, memorable moments and pictures. The chosen fathers include TV presenters, actors and sportsmen.
AFL player for the Western Bulldogs, Luke Darcy is father to Sam, 4, Sienna, 2, and Will, 5 months. He says that fatherhood is everything and more than he had ever hoped for;
They are the whole focus of your life. You probably spend more time talking about them and thinking about them than anything else.
Source: Herald Sun; Sunday Herald Sun; The Advertiser
Continue reading for more photos and stories.
How did you spend your Father's Day?
Kangaroo's captain Adam Simpson is father to Milla, 4, Allie, 3, and Owen, 10 months. For Adam the best thing about fatherhood is simply having them there with him;
It's the whole family aspect of it for me, I'm very much a family man. The fact we have three of them we feel like a really complete family now. I enjoy their company and watching them grow up.
Melbourne forward player Aaron Davey is dad to Atalia, 4, and Mikayla, 3. He says that being a young father is the best decision he ever made.
I was young (19) when my partner (Anna) fell pregnant and it's made me grow up a lot quicker than I would have if I wasn't a father. I love everything about being a father and it's getting better.
Carlton player Brendan Fevola is dad to Leni, 1, and Mia, 7, says it's the simple things that make fatherhood so enjoyable.
It's the joy you see on their faces and the cute noises they make that makes you feel really important. Leni's starting to say "Daddy" and it makes your heart melt. It's all about your children, everything revolves around them.
Port Adelaide Player Michael Wilson, is father to Noah, 3 1/2, Lucy, 2 1/2, and twins, Tom and Charlie, 9 months. Michael said he expected this father's day might be big when he wasn't allowed in the lounge room for a week.
It's been a real arts and craft exhibition at our house this week. There's glue and cut-outs all around the house at the moment and I haven't been allowed into the lounge room. I don't know what it is but it think it might be big.
Ian Dickson of Australian Idol, is dad to Esme, 16, and Edie, 14, he says that the only advice he gives them is to follow their dreams.
Most teenage kids don't want to listen to a middle-aged buffoon like me. The only advice I've ever given and want to stick to is follow your passion.
Other Australian celebrity fathers who are popular with our readers include:
Actor Russell Crowe, who is father to Charlie, 3 1/2, and Tennyson, 1.
Actor Hugh Jackman who is father to Oscar, 7, and Ava, 2.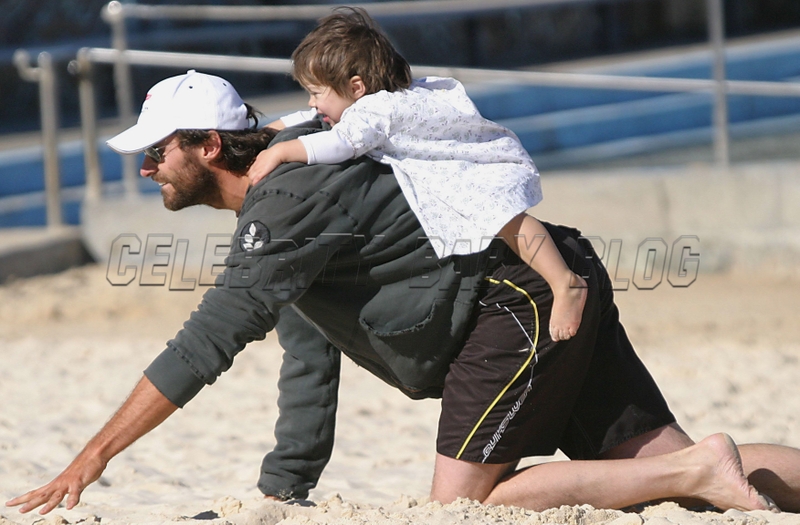 TV presenter Peter Overton, who became a first time father in January when he and wife, Jessica Rowe, welcomed Allegra Penelope.
Port Adelaide Power player Darryl Wakelin is father to Amelia, 21 months and Gillon, 4 months.
Actor Heath Ledger is father to Matilda Rose, 22 months.
AFL Collingwood captain Nathan Buckley is dad to Jett, 8 months.
Basketballer Scott McGregor is dad to Brodie Andrew, 5 weeks.
TV gardener Jamie Durie, is dad to Taylor, 12.
Soccer player Paul Agostino is father to Mia and Stella.