Angelina Jolie takes Maddox and Zahara out in Venice
Actress Angelina Jolie, 32, takes Maddox Chivan, 6, and Zahara Marley, 2 1/2, on a boat ride and around the city on Sunday in Venice. They are in town so that daddy, Brad Pitt, 43, can promote his new film The Assassination of Jesse James.

Zahara's dress is by Chick Chat — available in aqua, earth, watermelon and pink (sizes 2-14) ($23).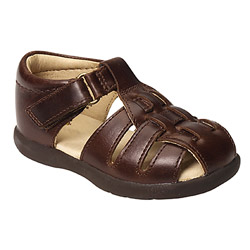 Zahara is wearing Stride Rite Guppy stage 3 sandals in brown ($39).