Update: Mexican pop star Cristian Castro reconciles with pregnant wife
by auditioning contributor Alyk: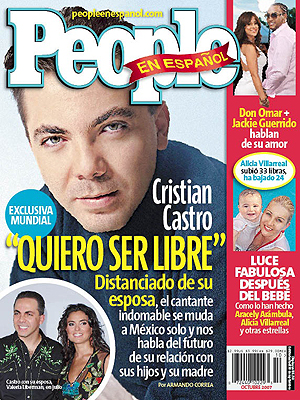 Update: Despite filing for divorce earlier this week, Cristian tells People en Espanol that he and Valeria have reconciled and that he will 'always lie to the press' about his personal life.
We need to understand each other better. We need to provide each otherwith what we need; she needs something and so do I, and if we don'tknow how to give each other what we need, it won't work.

I don't want thepress to know about my personal life. I'm not here to share it; I'mhere to sing. I will always lie to the press. Always expect lies aboutmy personal life. Wereconciled and we're working hard on our marriage. All I want is for itto work, and if it works now, I think it will work forever.
Originally posted August 29th: Grammy-nominated Mexican pop star Cristian Castro has split from his wife of three years, Valeria Liberman. Valeria, a practicing attorney, is currently five months pregnant with the couple's second child.Cristian, 32, confirmed the news with People en Espanol in their upcoming October issue, saying he just wanted to be free. Although Valeria told the magazine only days before the split that Cristian was an attentive father and passionate husband, the singer has since left the family's Miami home and moved back to his native Mexico.
I want to be free. I believe that always one must be happy in life; if one cannot be well, then one must move.
The couple also have a two-year-old daughter, Simone, who will stay with Valeria in Miami. Cristian claimed he intends on keeping an apartment nearby so he can stay close to Simone.
I want to be a good dad and a fun dad who will always be with them. It's important for me to have close friendships with my children. [Simone] definitely won't be lacking the love, respect and ambition to succeed in her life that perhaps I lacked to succeed in my own.
Source: People en Espanol
Thanks to CBB reader Tamika.