CBB Exclusive: Ione Rucker Jamison talks to us about motherhood, her tougher son and girly daughter!
By guest celebrity interviewer Candice S. Cook:
Ione Rucker Jamison, a graduate of Spelman College in Atlanta, Georgia, is the wife of veteran NBA forward Antawn Jamison of the Washington Wizards. She is also the proud mother of two beautiful children, Kathryn, 2 1/2, and AJ, 8 months.
Continue reading for the interview — highlights including baby weight, maternity fashion, breastfeeding, challenges of motherhood and the baby items she could not live without.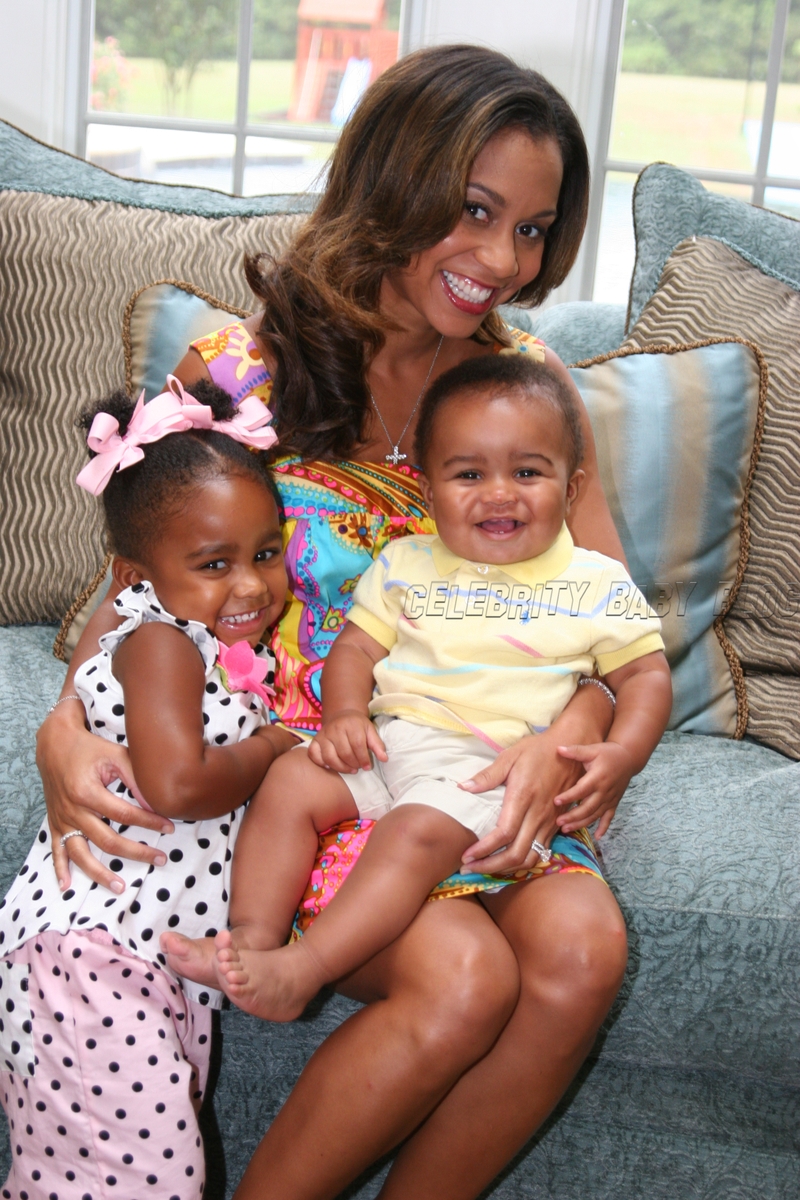 Photos exclusively for use on the Celebrity Baby Blog, Inc. Publication of images on other sites is prohibited. Photography by Tonya Steward with TBS Photo Imagery; make-up by Essence Legette of Essence Designs.
Ione, so much fuss is made about celebrity moms losing weight quickly after the birth of their children. In fact, you seem to have the perfect figure every time I see you. Did you feel a similar pressure to lose weight quickly? And if so, how did you achieve your weight loss and maintain your sanity and your health?
With my first child, I nursed for 12 months, so the weight came off easily. Nursing is the best way to burn tons of calories without having to exercise. However, with my son, I only breastfed for 1 month, so it didn't come off as fast — this was because my son did not take to the breast well.
He was given a bottle in the hospital, due to me needing rest, and then when I went to breastfeed he was not used to the milk coming in slower. I fought through it for a month but then my milk started drying up. My daughter never got a bottle, she took to the breast right away.
After AJ's birth, I started working out 4 weeks later. Nothing too strenuous, just walking at a normal pace and doing light weights at first. Gradually, I started to jog and do lunges, sit ups, and push ups. I fortunately have a naturally small build, so I like [to] have a little extra in some places; I mainly just wanted to get my stomach back to its normal size.
Did you experience cravings with either pregnancy?
With Kathryn, the orange peanut butter crackers. With AJ, I did not crave much, but I did eat way more than usual.
What was your most difficult challenge as a first-time mom and how were things different (or were they?) when you had your son?
My most difficult challenge was, and still is, not getting enough sleep. Both of my babies wake up throughout the night…two sometimes three times!!!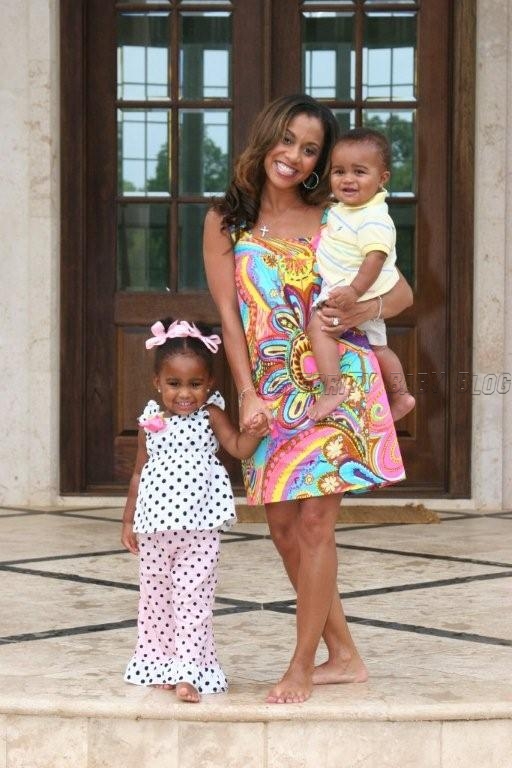 Have you found there to be a difference between having a baby girl and a baby boy? How have you made adjustments to accommodate their unique personalities?
There are major differences between having a baby girl and a baby boy. First, with the girl I seemed to be more protective over because she seemed more delicate at first. My son was bigger and he has always been really laid back, whereas my daughter has always needed tons of attention.
Also, I find myself not spending as much money on my son because they don't need as much. My daughter, however, needs the bows, the purses, the tights, the frilly socks, the cute outfits, etc!
My son is far more active than my daughter was at 8 months, and he is 5 pounds heavier than she was at this age. They both have tons of personality already…Kathryn being the ultimate girlie girl, and AJ being the active baby taking in everything!
Posh Spice (Victoria Beckham) has rocked the mommy world with her incredible sense of style and fashion. I know you to be quite the fashionista as well. However, watching commercials like Suave, it seems pretty safe to say that many moms find that balancing being mommy with being stylish to be a difficult task. How have you been able to strike a balance and still find time for yourself?
I always find time to get my hair done and my manicures and pedicures. Fortunately, I have always had the help of my nanny, Raquel, and other family members and friends. It is very important to create some '"me time" because it keeps you fresh and energetic.
Maternity fashion has come a long way. Did you wear any particular brands or looks while you were pregnant that made being fashionable a little less of a chore?
I loved Liz Lange Maternity clothes. They were very stylish and fit my body perfectly. Also, I lived in the tunics and leggings during my pregnancy with AJ, I was lucky that was in style then.
(Liz Lange also makes a less pricey line of her maternity clothes for Target.)
Do you have any "I could not have lived without them" items that you depended on after you had your children? What were they?
I love the Sit N Stroll stroller ($220). It is a car seat and a stroller all in one. It is great for us because we travel a lot. Also, I don't know how I ever lived without baby wipes…they are the best!
Your equally fabulous sister, Dr. Ellen Rucker Carter, who was married to Vince Carter of the New Jersey Nets, had a beautiful celebrity baby of her own around the same time that you did. Are all of your nieces and nephews close in age and how does that affect the family dynamic now?
My sister Ellen's daughter is Kai. Kai was born three weeks before Kathryn…as you can imagine they are the best of friends. Kathryn wakes up every morning talking about Kai.
My oldest sister, Patsy had her daughter, Siarra 6 days before Kai. I have 12 nieces and nephews and they are all really close. We usually all get together at least once a week, we recently took them all on the Disney Cruise!
Due to your husband's profession as a basketball player-I imagine you have to travel frequently. How do you manage a toddler and infant on the plane? Do you have any tips for other moms out there?
My best tip is not to do it alone. Always have a family member/nanny travel with you! Nowadays, it is too difficult to go through the airport with two babies alone.
What have you learned about yourself from being a mother that you did not know before and how has that changed you?
I have learned that motherhood has been the greatest blessing to me. I feel like I am a more spiritual person because of my two blessings…I thank God for them everyday.