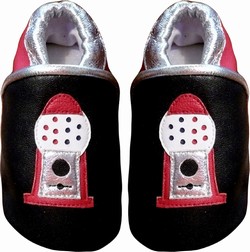 From my favorite baby crib shoe company, Cute Baby Shoes, comes the newest design, "The Gumball Machine,"whose design was suggested by Celebrity Baby Blog Reader Jennifer W, andvoted #2 by Celebrity Baby Blog readers. The Gumball Machine features a red, white and silver on a black background with silver cuffs – suitable for both boys and girls. (The #1 choice was The Lobster.)
Brought to you by Cute Baby Shoes- where baby's first steps are protected by a layer of soft padding,yet soft flexible suede soles allow baby's feet to grip the ground andget a good feel for the new territory ahead of them.
Exclusively for Celebrity Baby Blog Readers: The Gumball Machine will be available in about 6-8 weeks but you can pre-order them now AND save $5 with coupon code 5off for the new style. (Expires 9/28/07)
What do you think of this new design?