CBB Exclusive: Maternity Designer Ruby Fay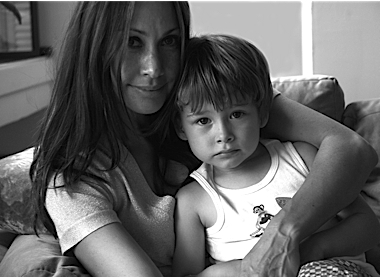 Ruby Fay is the bad girl of maternity clothing. With her preggo-power shirts emblazoned with lines such as, Well-behaved women don't make history, the Australian-born Fay is a pioneer in the design world. And she's a cool mom, too. We caught up with Ruby to see what's next for this haute mama.
How did you get your start?
When I lived inEngland, I was a singer/songwriter in a band called Caine. Then, I moved to theUnited States7 years ago. When I got pregnant, I made some T-shirts with fun phrases as a joke. It turned out that everyone loved them! On a whim, I decided to start a business creating maternity shirts, and it has turned into a big success. The first shirt in the line was the Love Hurts T-shirt.
For the rest of the interview and the photos, click Continue Reading.
Photography: Gabbeli Photography (www.gabbeliphotography.com) for use only on the Celebrity Baby Blog.
Art Direction: TBO Designs, Inc. (www.tbodesigns.com)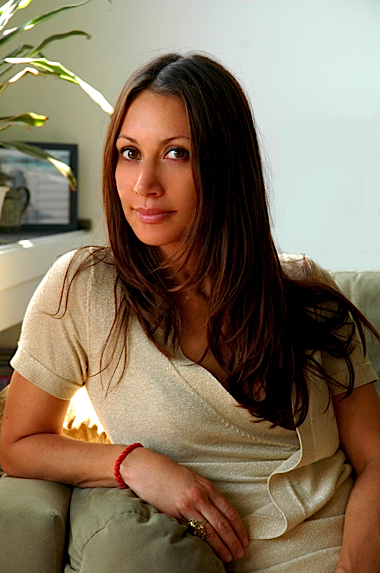 Your songwriting skills definitely helped you pen the witty writings on your shirts!
Yes,creating a T-shirt slogan was the next best thing to penning a song.Writing music will always be in my blood but it's not as easy to doright now with a rambunctious 3 year-old son.
How has being a mom shaped you in terms of your work?
My son, Luca is really the impetus for me creating my business. I think that you're better at business when you're a mom, simply because you have to make it work. My son is definitely my driving force, and being a mom has made me bolder. I've certainly done things that I didn't think I would have or could have done before, such as creating this clothing line. I wouldn't be as driven if I didn't have Luca.
You're originally fromAustralia. How is the maternity scene there?
There are a number of maternity lines in theU.S.that are actually Australian and they do really well. Aussie woman generally have a dry wit, and a fun, down-to-earth sense of humor that often comes out in the way they dress. I like the attitude of not taking one's self too seriously. And I think that comes through in my line.
Describe your typical client.
Anyone can wear my shirts, and there are plenty of styles in the line to suit all women. However, for the shirts that make a stronger statement, I think it takes a certain kind of woman to wear them. People really love the edginess and get the message behind the sayings. It is really a bold woman who can sport a Ruby Fay shirt.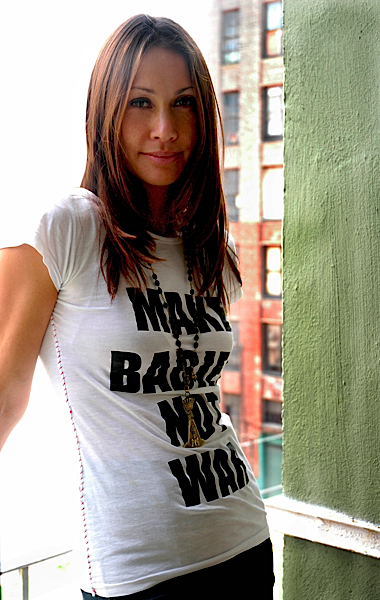 Where can people buy your shirts?
They can order through my website (www.rubyfay.com). They're also available at independent boutiques throughout theU.S.and internationally as well. The shirts are a huge hit inKuwait,Sweden, and throughout theMiddle East. InBeirut, my Make Babies Not War shirt is tremendously popular, which I think makes a strong statement about how people are feeling.
What can people expect for the next season?
I'm going to continue making great tees for pregnant women. I also will be debuting trench coats with adjustable straps. The collection will expand but still stay true to the original vision I had for the line.
Apart from being a mom and a designer, there's talk of you doing your own show.
Yes, I'm working on a television show about single parenting inNew York. It will have a single-mom and dad-in-Manhattan-vibe, like Sex & the City, except with kids! I will be the Executive Producer as well as one of the featured moms. It's a busy, wonderful time for me, and I wouldn't have it any other way.
For more on Ruby Fay and her fab fashions, go to www.rubyfay.com.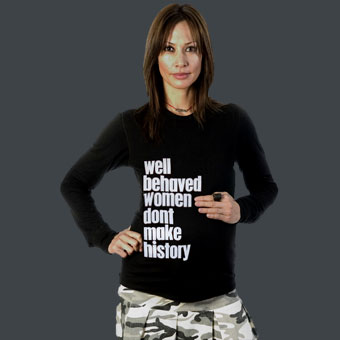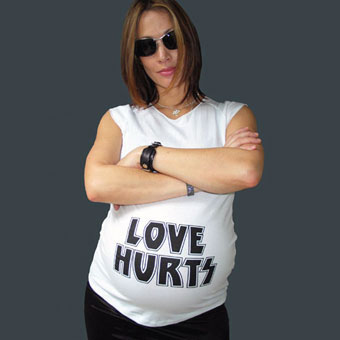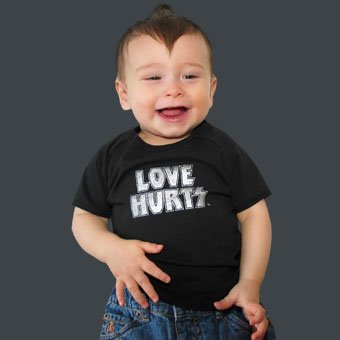 Well-behaved women don't make history ($36, was $58)
Love Hurts Infant Tee ($16)
Love Hurts maternity tee – short and long sleeve ($20-58)
Make Babies Not War infant tank and maternity tee ($20-48)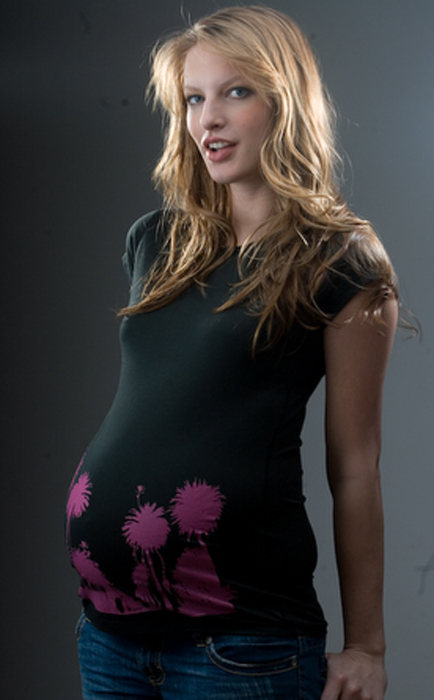 Danielle adds: I'm loving Ruby's Hollywood Baby tee ($38, was $48). Be sure to check out the sale items too.
What do you think of Ruby's tees? Would you wear one?