Catherine Zeta Jones tones down language for the children
by auditioning contributor Alyk: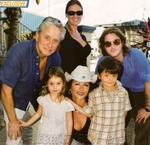 Catherine Zeta Jones recently admitted she has a dirty mouth, but she had to temper it since giving birth to her two children, Dylan, 7, and Carys, 4. The actress blamed her Welsh roots, saying it's in her nature to curse.She explained, "I'm from Wales, I have a mouth like a truck driver."Despite her language woes, Catherine claimed she and husband, Michael Douglas, adore the life they've made for themselves and their family.
I'm happy. I'm crazy in love with my husband. I love my children and adore just watching them grow and change. I'm close to my parents and to Michael's parents. And I'll always work—acting is my passion.
Next up on the acting front for Catherine: possibly a starring role in the big-screen version of the hit Broadway play Nine.
Source: Starpulse and Parade Magazine