The Shops at the Celebrity Baby Blog: Post shop feedback and win a gift certificate to Uncommonly Cute!
Update: The winners are CBB Readers Kelly, who said she'd get the long-sleeved Rock Star t-shirt for her son if she won, and Traci, who said, "I would put my gift certificate towards t-shirts for my twin boys, probably "Swingers" with the picture of the swing set! I think that is hilarious."
---
To celebrate the relaunch of the new and improved Shops at the Celebrity Baby Blog, we are offering regular giveaways from participating Shops.
Featuring gift ideas, exclusive promotions, and discounts from ourfavorite companies, it should be the first place you go when you wantto do some shopping online.

To be eligible to win one of two $25 gift certificate to Uncommonly Cute , one of our sponsors, visit the Shopsand post a testimonial under one of the stores that you've shopped atbefore, talking about your experience (good or bad). If you haven'tvisited any of the Shops, visit Uncommonly Cuteand post a comment here , telling us what you'd put your giftcertificate towards if you win. (Giveaway closes Friday, August 31stat 8 am EST.)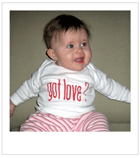 Uncommonly Cute's t-shirts and onesies not only afford babies a senseof individual style-be they a Diva, a Rock Star or a Fashionista-butcomfort as well. Each garment is made of 100% combed cotton and issuper, super soft. Sure to delight the babies' no-fuss, sociallyconscious moms, the clothes are all machine washable, safe, durable andmade in sweatshop-free American studios. Here's Anya, at 5 months, wearing her "got love?" tee (unfortunately no longer available).
For info on advertising in the Shops at the Celebrity Baby Blog, email Gina.