Julianne Moore and family's Canadian adventures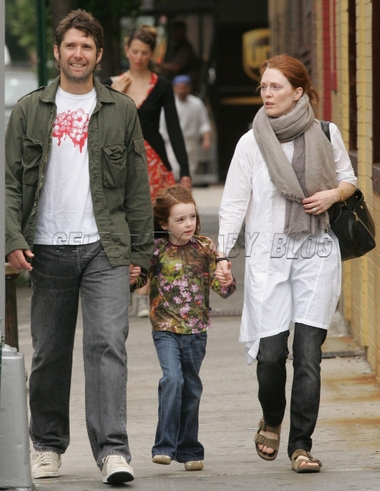 New York City gal
Julianne Moore
and her family, husband
Bart Freundlich
, son
Cal
, 9 1/2, and daughter
Liv
, 5, are currently stationed in Guelph, Ontario, Canada while she shoots the thriller
Blindness
, and the family is loving the new locale. Julianne and her kids, who are taking tennis and swimming lessons there, have tackled all the hot spots and Liv wants to live in Guelph forever.
It's paradise because of all the amusement parks. Wonderland, Centre Island, African Lion Safari, Bingemins Water Park – have you been there? We've been there. We've hit them all!
Cal and Liv didn't like all of the places they've visited though.
We went to the Mennonite Museum, and I forced the kids to go to the broom store. My son said, 'I feel like we're doing a lot of things that you want to do.' I said, 'You're right, and if I were really mean, I'd make you go to the quilt store, too.' They were like, 'Noooo, Mommm!' But it was okay, because they both got horseshoes.
Spending time with her kids has helped keep the tone light on set for the 46-year-old, who is also releasing a book called
Freckleface Strawberry
($12.14) in October.
Blindness
, about a mysterious infection that renders a whole town blind, is dark and bleak, but all that changes once "Cut!" is called.
I can't even take it to lunch, as you saw. And honestly, it's great. Having kids forces you to compartmentalize. And I couldn't be away this long without them. We're all too miserable. I'm so fortunate, because every working parent is looking for some kind of flexibility. I also think it's good to show them that work isn't something you have to disappear into; it's part of your life.