UK actress Tina Hobley with daughter Isabella in Sky Magazine
English actress Tina Hobley, 35, best known from TV series Holby City is featured in Sky Magazine's September issue with daughter Isabella, 8, in the In My Dressing Room feature. Tina also comments on how Isabella has grown, saying,
She's usually in my dressing room when she's not at school. She's grown up with me on the show. She was two when I started – and now she's eight. She's always running around and knows everyone. All her old toys are in here – she's even made a little den in the corner. I think she actually finds it quite boring watching me work though!
Isabella is Tina's daughter with ex-husband Steve Wallington.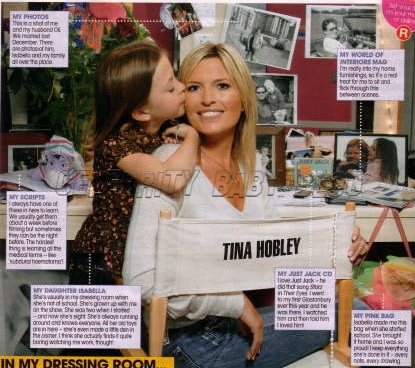 Source: Sky Magazine (UK) September issue
Thanks to CBB reader Lost Girl for the scan.