Sponsor: Vincent Boys Shoes Available At Ochanga.com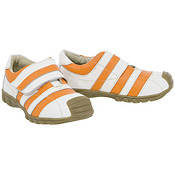 Gwyneth Paltrow's son Moses Martin wears Vincent Shoes in the Red Smith Style.Like Gwyneth, get stylish yet comfortable shoes for your son. Shop Ochanga.com for many styles of Vincent shoes for any age. Starting with Dennis Style Early Walker ($55) in infant and toddler sizes. To the fabulous Cool Canvas Tennis Shoe ($29.95) for the older boys. You cannot go wrong with Vincent Shoes. You can also find the classic Vincent Fisherman Rain Boot ($30). Perfect for any boys water play.
Your son deserves to dress just as fashionably as his parents! LetOchanga introduce you to stylish boys' fashions. Created by a fashionsavvy mother, Ochanga offers clothing brands from around the world,including international designer brands like Amelia from Italy,Claesen's from Holland, Mill&Mia from Australia and Wonderboy of theU.S.
Exclusively for Celebrity Baby Blog Readers: Receive 20% percent off any purchase at Ochanga.com. To redeem this offer, visit Ochanga.com and use code CBBSHOES07 but hurry because it expires 8/30/2007.