Angie Harmon and her 'Sasquatch' daughters in Cookie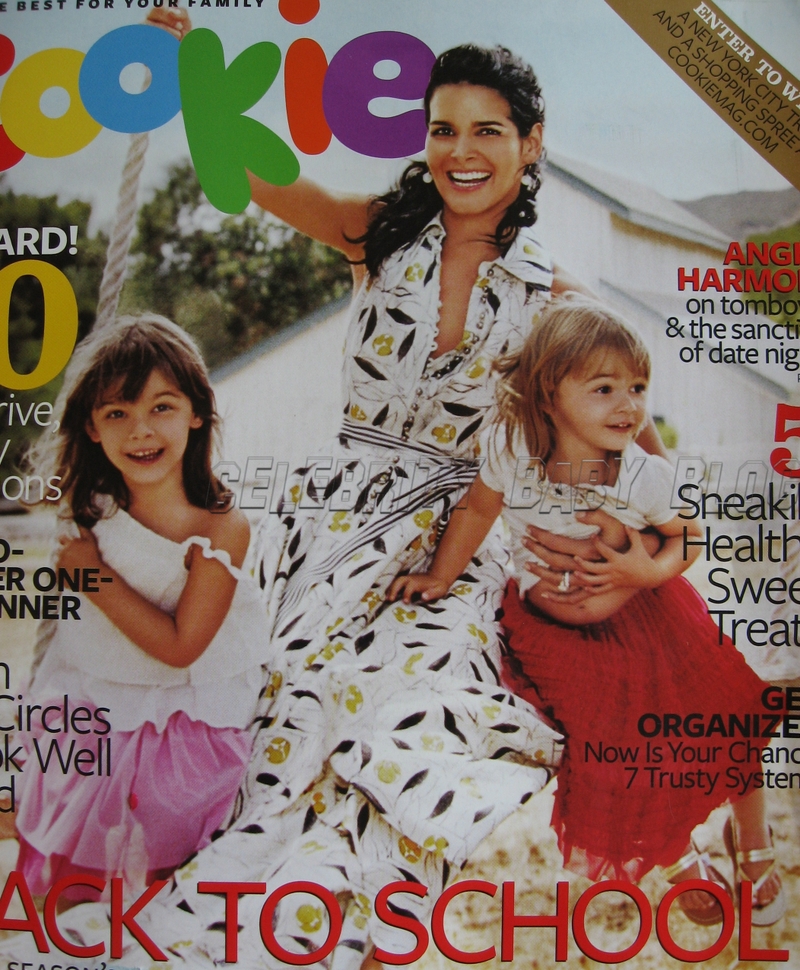 Angie Harmon, 35, who left Law & Order six years ago, is now back on television this fall with her new series, Women's Murder Club. However, what she really values is time with her children — Finley Faith, 3 1/2, and Avery Grace, 2, her daughters with former NFL player Jason Sehorn. The actress poses for the cover of Cookie magazine's September issue with her girls, along with a revealing interview and photo spread inside.
Click below for the photos, fashion, and interview highlights — including Angie and Jason's nicknames for their girls, how they integrate religion into their lives, and why Angie is thinking about getting Jason drunk on date night!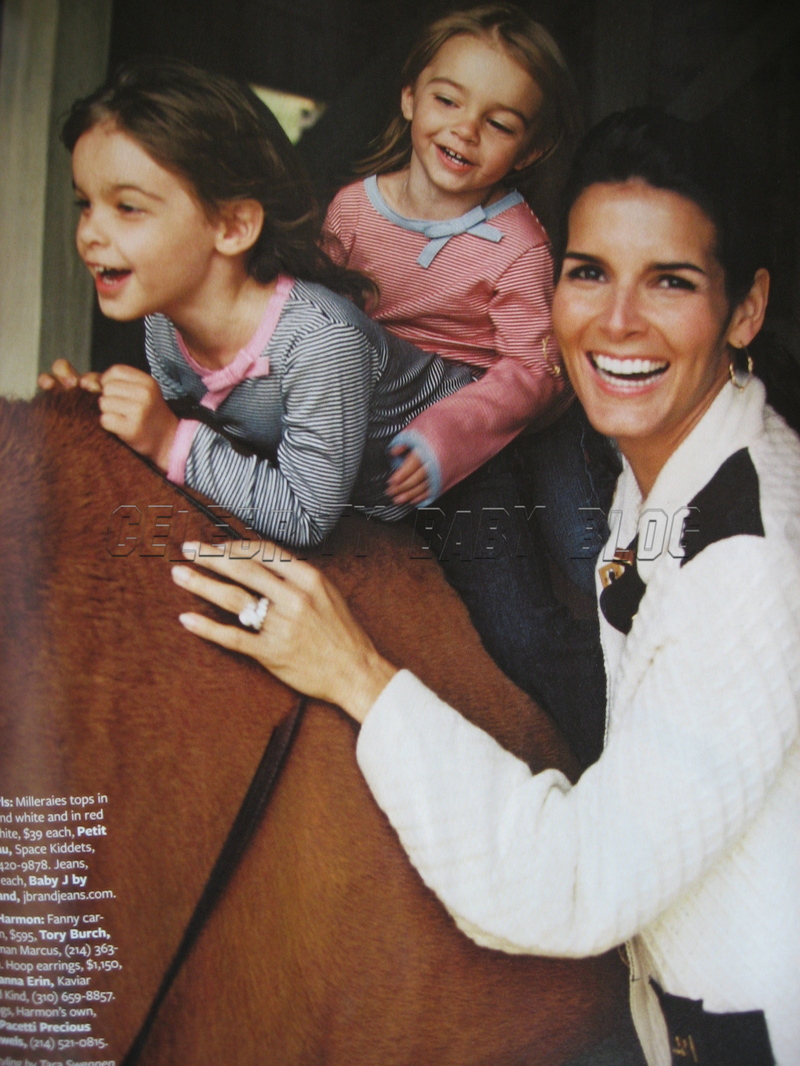 For the past few years, fashionista Angie — the daughter of two models herself — has made a career as a glamorous stay-at-home mom.
[I went to the pet store] to buy live mealworms for Cutie Pie, Finley's pet gecko — wearing my skinny jeans and wedge heels. So, you know, everything is okay! [laughs]
Now that she's headed back to work on her new show, the family's schedule has required some adjustments — not only is Angie going back to work, Finley is also starting preschool.
[My days will be] 5 a.m. to 9 p.m. instead of 9 to 5. Finley is about to start school, and of course I want to take her to school and pick her up, but I think these are the sacrifices you make.
Angie knows the upcoming changes are causing stress for her family, and she handles it the way many mothers do — by speaking with friends who understand how difficult parenting can be.
All mothers go through the exact same things. I call friends for advice. I lose my temper and feel horrible about it. But I love [the girls], and they are my life… It's not like I don't have my own wants and dreams anymore — it's just that the kids come first. It's primal.
However, when Finley and Avery are being particularly trying, Angie and husband Jason, 36, have a special nickname for their little devils. Drawing inspiration from 80s horror flick Children of the Corn, the Sehorns play off their last name by calling their girls 'Children of the 'Horn' — and that means it's daddy's turn to deal with them.
When they turn into Children of the 'Horn, I'm like, 'Honey, the inmates are taking over the prison. Now come get your kids.'
A recent addition to the nickname collection is 'Sasquatch,' as both girls are extremely tall for their age. Angie reasons,
Everyone gets made fun of. We want them to have a good sense of humor. We're hoping if they hear it at home, it won't hurt when they hear it at school.
Angie has her own family nickname — cream puff — because of her lack of athletic prowess. Her very active daughters are in no way cream puffs themselves, though.
Finley has a six-pack and not an ounce of fat. She runs around nekkid all the time. And her rear end is up on her shoulders, like her dad's. Avery, meanwhile, is in the big-stomach, droopy-butt phase. She looks like a delicious bread roll with Barney Rubble brick feet.
Angie says her girls 'run in four gears' — which are 'Wake, eat, burn calories, sleep.' A particular attraction as of late has been slugs, which is a bit of a shock to shopaholic Angie.
They are fanatics about bugs; Finley will pick up a slug and kiss it. When they want to go look for slugs, I'll be like, 'You want to go to Neiman's? Maybe Barneys? Okay, no, let's look for slugs.'
However messy and gross her girls may get, Angie takes pride in their politeness — 'they know to say please and thank you' — and their religiosity.
I don't think they get the concept of God yet, but we're working it in slowly. You have to make it fun. So we pray at meals, and then, before bed, Finley prays for her gecko and her sister.
While on the subject of religion, Angie confesses that she may be up to no good with her husband when it comes to getting what she wants — more than one additional kid. Angie jokes,
[Jason] wants one more, and I want two or three more, so I may have to get him drunk on date night!
Source: Cookie, September issue, p. 178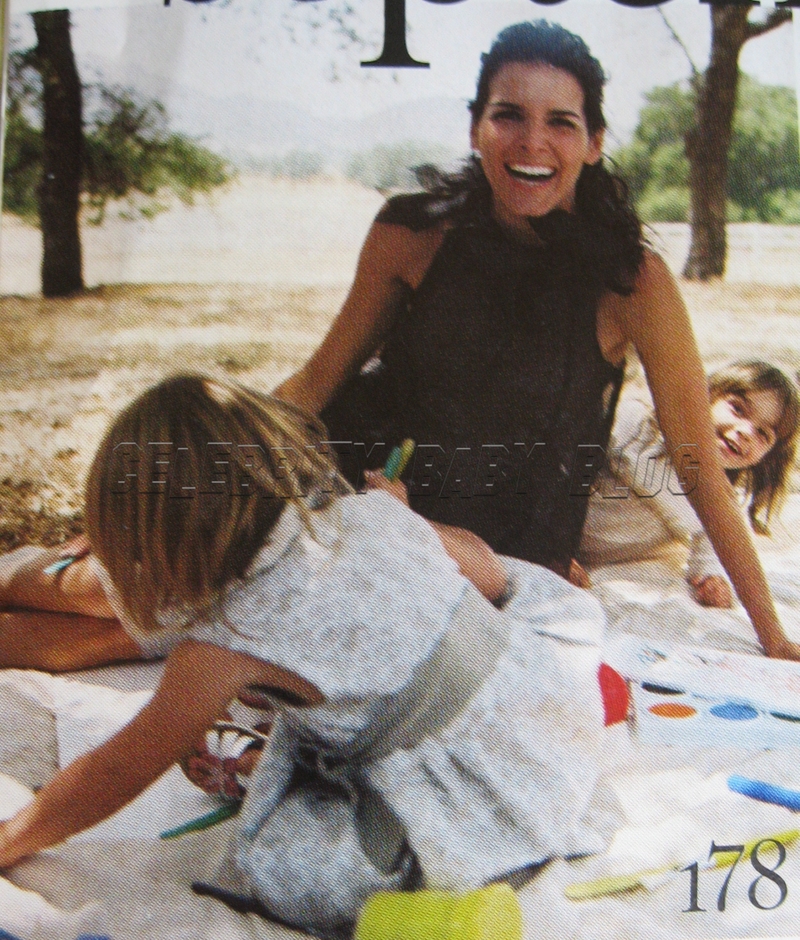 In the horse photo, the girls wear Petit Bateau Milleraies tops in navy and white and in red and white, and jeans by Baby J by J Brand. On the cover, they wear skirts by Baby Lulu.