WBW 2007 Raffle: OMgirl 5-piece mix-and-match wardrobe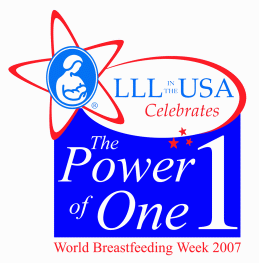 Check out today's highlighted Celebrity Baby Blog World Breastfeeding Week Celebration 2007 Raffle prizes, generously donated by the following sponsors. For details on how to buy raffle tickets towards winning these prizes, read our World Breastfeeding Week Celebration post here.
All raffle ticket money supports La Leche League, whose mission is to help mothers worldwide to breastfeed through mother-to-mother support, encouragement, information, and education, and to promote a better understanding of breastfeeding as an important element in the healthy development of the baby and mother.
---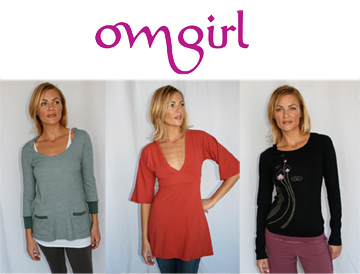 Whether you're a new mom trying to lose those last few pounds, or simply looking for comfortable, stylish clothes to get you through your day, OMgirl has something for everyone.
OMgirl was launched in 1998 with a vision: to create clothing that reflects a state of harmony and balance for the modern woman, without sacrificing style and comfort. OMgirl's designs reflect a unique blend of urban chic and West Coast sensibility. Pieces from the collection can be effortlessly layered, taking you from a day of shopping or an outing with the kids to dinner and a movie with ease and style.
OMgirl's signature tees, tanks, drawstring pants, skirts and dresses create a silhouette that delicately drapes the body, comfortably enhancing curves. The collection is made from the finest fabrics—soft French terry, organic cotton, velvety velour, 100% pima cotton and silky modal.
OMgirl is committed to more than simply making you look and feel good. Each season OMgirl creates a "Peace" tee, with a portion of the proceeds benefiting various charities. This October, you can purchase a tee designed with a lotus flower made up of tiny pink ribbons at BareFoot Yoga, with 100% of the proceeds going towards the Young Survival Coalition, an organization dedicated to the concerns and issues unique to young women affected by breast cancer.
OMgirl is pleased to offer you a chance to win a beautiful 5-piece mix-and-match wardrobe from the Fall collection, plus a 3-piece outfit for your little one! The OMgirl| pieces are size small. Retail value of this prize is $321.