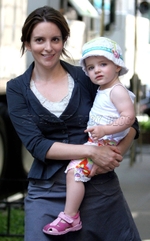 Tina Fey guest starred on the season premiere of Sesame Street Monday nightand has said she was looking forward to showing her daughter AliceZenobia, 23 months, the episode. Alice has seen it and, unfortunately,wasn't excited to see mom.
She watched because Elmo was in it, but she didn't seem to notice or care that it was me.
Tina's guest spot isn't the only thing lost on Alice, her daughter withhusband Jeff Richmond. The 30 Rock star, 37, was named one of TIMEmagazine's 100 Most Influential People in the World this year, butadmits she remains powerless at home.
It's funny when that came out, I couldn't even get my daughter to letme change her diaper. I'm not sure who I'm influencing, but I'll try toproceed with caution as if I am influencing anybody.
The actress made the list mostly due to her work on her NBC sitcom,which, while critically acclaimed, has been on the lower end of theratings spectrum. The Emmy-nominated show is returning for a second season, but Tinaconfesses she won't really mind if it ends prematurely either as itwould allow more downtime with Alice.
It's hard to say because some days I think, 'Well, if we go the route of Arrested Development I can raise my kid because I won't be at work so much.' But it would be nice to be The Office, too — it remains to be seen.
Source: TV Guide