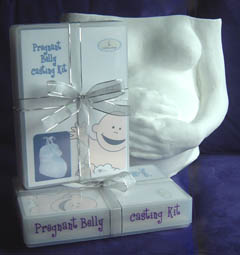 An 'excited' Jade Jones reportedly made an impromptu visit to a North London salon late last week to purchase a do-it-yourself belly casting kit for his heavily pregnant girlfriend Emma Bunton. Jade settled on Everlasting Castings $60 'Deluxe' kit, which comes complete with splash-proof instructions, a plaster bandage, Vaseline, plastic sheeting, a legs & panties protector, two pairs of gloves in two sizes, an apron, a picture hook & a silver ribbon. Said a salon employee:
When I asked if the kit was for him, he laughed and said, 'No, not for me, but I do have a bit of a belly, though.'
Emma is due at any time; The baby will be the first for she and Jade, who have dated for eight years.
Source: The Sun