Olympic gold swimmer Dara Torres kisses her 15-month-old daughter, Tessa Grace Torres-Hoffman, while awaiting her medal for winning the women's 50-meter at the United States Swimming Nationals today. Tessa's father is Dara's partner, Dr. David Hoffman.
Source: ESPN
Tessa wears the Iznik Floral dress by The Tea Collection ($38).
Thanks to CBB reader Sasha.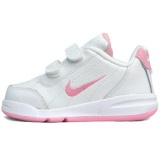 She is also wearing Nike Little Pico Plus tennis shoes in white with real pink ($28). They are available at various retail stores.

Thanks to CBB reader Darby