Heidi Klum's water babies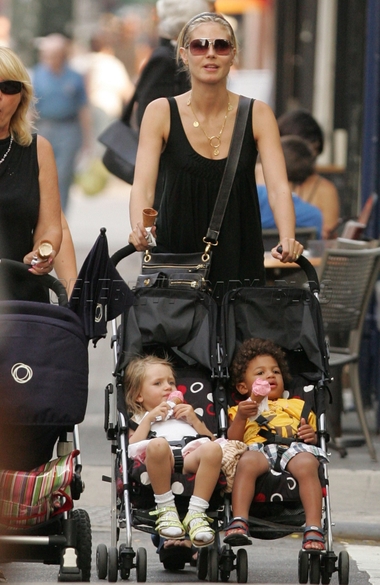 Heidi Klum may have some future Olympic swimmers on her hands. Leni, 3,and Henry, 22 months, are taking to the water quite easily after only ahandful of swimming lessons, the supermodel revealed on The TonightShow with Jay Leno.
Leni did four swimming lessonsalready. She can't make it all the way across – I have to help her inbetween to come up (inhales) and then she goes under again. But forfour times and she's just turned 3. Henry sort of [swims]. He goesunder and he has super curly hair, and when he goes under and it's wet,it's all, like, long. So he comes up with the curly hair.
Neither Leni or Henry are scared of swimming as Heidi hasalways put them in the water. But it's not time for Johan, 8 months, to get wet yet.
I wouldn't throw Johan in. You know how some people sayyou put your infant in and then they will just swim? I dunno about that- like here, swim, you'll be fine!