Geri and Bluebell Halliwell at Nice airport
Bluebell Madonna, 14 months, takes mom Geri Halliwell's cell phone off her hands while the two wait at customs at the Nice, France airport on Wednesday. Sporting a small cut on her forehead, Bluebell ran off with the phone — and promptly fell over! Geri then tried to distract her with a stuffed bunny instead.
Photos by Splash News, splashnews.com, splashnewsonline.com; INF; Bauer Griffin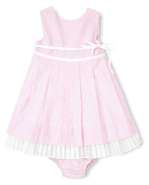 Bluebell is wearing Ralph Lauren's Nadia seersucker dress in pink multi ($35; 9-24 months, also available in blue multi for size 24 months). Bluebell is wearing it backwards!