Ben Affleck offers Matt Damon parenting tips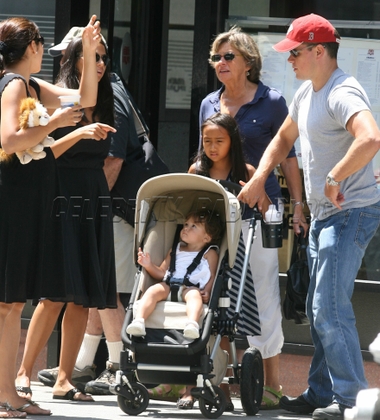 Ben Affleck got a six-month headstart on Matt Damon in the fatherhooddepartment. So when Matt welcomed Isabella in June 2006, Ben wasall prepared to offer parenting advice.
He marched into our house one day, plopped this toy down and said, 'This works.' He turned around and walked out.
Matt, 36, says fatherhood has definitely changed him for the better andis glad he waited to start a family as he "wasn't ready in my 20s."Now, he says, it all makes sense.
You find this feeling that you've never had before. There are great moments, and it keeps getting better as she gets older.
Asked if he and wife Luciana are planning to add to their brood, whichalso includes Luciana's daughter Alexia, 9, from her previous marriage,the Bourne Ultimatum star jokes,
We're not planning on following Brad and Angie's record-setting pace.
Source: OK! Magazine, August 13 issue, pg 34-35