Motherhood "natural" for Catherine Zeta-Jones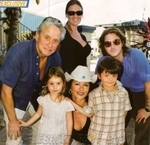 She's played an array of characters over her career, but none haschallenged Catherine Zeta-Jones the way No Reservations' Kate has. As aworkaholic chef, Catherine's alter ego has no time for kids and zeromaternal instincts, which couldn't be more different from the actressherself.
That was one of the things that I really had to keep in the back of mymind, because I'm a parent, too. My maternal instincts were hard tocontain. This woman has never been around children, doesn't know what to dowith children. It's just so alien to her. To me, it's natural.
Catherine spends most of the year in Bermuda with Michael Douglas andtheir kids Dylan, 6, and Carys, 4. She says she loves the localebecause work permits are required for paparazzi to descend on theisland, which explains the dearth of photos of her family.

If you arrive with a whole bunch of cameras, they just put you back on theplane. I'm happy to report that my life in Bermuda, no paparazzi.You don't see me going shopping, don't see me picking my kids up from school,don't see me coming from yoga.
Source: San Francisco Chronicle